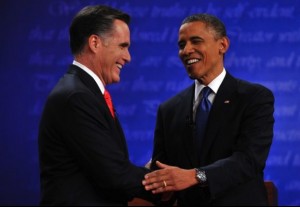 Nate Silver touted a new Pew poll on the FiveThirtyEight blog finding Mitt Romney four points ahead of President Obama nationally. Silver calls it "the single best polling result" that Romney has gotten in the race, dismissing Democratic objections about the way the poll was carried out, and projected that the Republican candidate's chances of winning the election have almost doubled since the debate last week. However, the FiveThirtyEight blog still projects that Obama has roughly a 70 percent chance of winning the election.
RELATED: Chuck Todd Calls Rasmussen Polls 'Slop,' Scott Rasmussen Responds
Silver acknowledged that both Rasmussen and Gallup released polls showing Romney a few points behind Obama, but suggested they looked more like pre-debate numbers as opposed to the stronger numbers Romney has been getting following his strong debate performance. Silver explained exactly how much the debate resonated with voters.
Mitt Romney gained further ground in the FiveThirtyEight forecast on Monday, with his chances of winning the Electoral College increasing to 25.2 percent from 21.6 percent on Sunday.

The change represents a continuation of the recent trend: Mr. Romney's chances were down to just 13.9 percent immediately in advance of last week's debate in Denver. He has nearly doubled his chances since then.
Now, this obviously still leaves Romney with a bit of a chasm to climb, and Silver acknowledges that Romney's bounce has partially faded over the weekend. But he made it clear that this particular Pew poll has played a bigger influence on his prediction index than any other poll so far.
Silver also touted a number of swing state polls showing Obama still slightly ahead of Romney, and sticks with his projections predicting Obama would win the national election by around 2.5 percentage points.
Read Silver's full post here.
—–
Follow Josh Feldman on Twitter: @feldmaniac
Have a tip we should know? tips@mediaite.com
Josh Feldman - Senior Editor