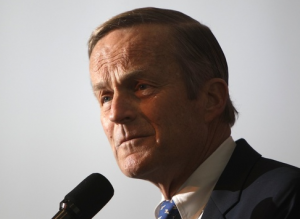 The editors of the National Review penned a piece calling on Rep. Todd Akin to step out of the Missouri Senate race in light of his recent comments, in which he defended his view of abortion (should be illegal even in cases of rape) by saying that in cases of "legitimate rape," the woman's body has defense mechanisms to prevent pregnancy.
"And while it is not completely clear what point Akin was trying to make with the phrase, 'legitimate rape' should not appear in any good one," the piece says.
It goes on to say that, "Most Republicans who hold the view that unborn children have a right to life regardless of the circumstances of their conception will have the wit to explain themselves in a way that prevents most voters who disagree from vetoing them for that reason."
Akin, while "a stalwart conservative and an honorable man, we regret to say that he inspires no such confidence."
The piece concludes:
Akin has backed off from his remarks, albeit with the politician's excuse of "misspeaking." People who make such remarks on television are typically capable of making more like them, or rather incapable of exercising the judgment to refrain. We suspect that this same lack of judgment will cause Akin to blow past tomorrow evening's deadline for him to leave the race and allow the Republicans to select a better nominee. We hope the congressman, who surely wants to see a Senate with as much conservative strength as possible next year, will prove us wrong.
(H/T POLITICO)
Have a tip we should know? tips@mediaite.com