NBC Announces First Batch Of Leno Replacements – With Help From Bruckheimer, Smits

In the first year since the Jay Leno at 10pm debacle, NBC has unveiled the star-studded Fall line-up for the former home of The Jay Leno Show.
And in a twist of ill-fated timeslot irony, the news was broken by a reporter who snuck into the upfront rehearsal yesterday.
Last night James Hibberd of The Hollywood Reporter not only broke the entire new NBC line-up before the network had a chance to announce it to advertisers, he revealed many of the talking points and zingers to be said by the execs. How'd he do it? According to Deadline.com:
Both reporter James Hibberd and NBC have confirmed that he obtained this info by sneaking into the network's upfront presentation rehearsal. No executives were there, but it didn't matter: the run-through script was unveiled.
Because of this, the outlet is banned from the upfront and conference call, according to Deadline.com. But not before Hibberd's Live Feed broke the news, of course. Here's the full schedule: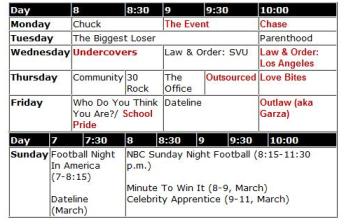 Besides Parenthood, the new 10pm line-up features all new programs. One of the most highiy-touted new NBC shows is Chase which comes from executive producer Jerry Bruckheimer. Jimmy Smits is also back starring on the network (he previously closed out The West Wing's West Wing), in Outlaw, interestingly a product from Conan O'Brien's production company. Also there is Law & Order – or rather, the new Law & Order: Los Angeles (but hey, it's still Dick Wolf).
Finally, the comedy offering on Thursday night will be Love Bites starring Becki Newton, formerly of Ugly Betty, and Jordana Spiro, of TBS' My Boys (and a whole lot of guest stars). [Update: Spiro is out, Greg Grunberg formerly of Heroes steps in.]
It's a very similar line-up to the pre-Leno days – but as lead-in and ratings take on higher scrutiny this year, these programs may be viewed most closely in the early days of Fall. In a way, they all have a head start. The year-to-year comparisons are certainly going to be favorable as they begin their runs.
Check out a clip of Chase below:


—–
» Follow Steve Krakauer on Twitter
Have a tip we should know? [email protected]