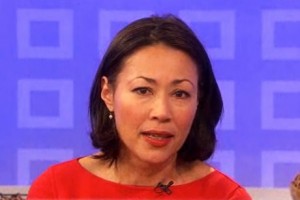 In the few days since Ann Curry stepped down from her Today Show perch, NBC News president Steve Capus has not sugarcoated the details of why she is no longer working on the morning show. In an exclusive interview with the Hollywood Reporter, Capus said that he didn't think it looked like the best fit for Curry, and after giving her "a year to prove herself," he decided that "she had played at the highest level she could."
RELATED: Ann Curry Says Good-Bye On Today: 'I Love You And I Wanted To Give You The World'
Capus heaped praise on Savannah Guthrie, the new co-host of Today, calling her someone who "has the ability to communicate clearly and in an approachable manner." And as for any other changes he might consider making to the morning show, Capus brought up MSNBC's Willie Geist by name as someone "who is comfortable doing morning television."
But when it came to Curry's departure and why she wasn't the best fit for the show, Capus left no stone unturned in his assessment.
"I think it was not where her real passion was," he said. "In her heart of hearts, I think she would admit that. I think her real passion is built around reporting on international stories. It's tough to convey a sincere interest in something if you don't possess it. We live in a HD world. Dan Rather used to say the camera never blinks. Well, this is an HD world now, and the camera picks up everything. And you could tell with her, you can tell with any anchor, whether they're into it or not. And I think we've now come up with a role that will play to her strengths…

"We gave her a year to prove herself, and ultimately we came to the conclusion that she had played at the highest level she could… When you're in the major leagues of our profession, you've got to continue to be at peak performance in order to stay there."
He insisted that Curry's new role at NBC News would be a much better fit for her talents, especially with the 2012 Summer Olympics coming up in London.
h/t NY Daily News
—–
Follow Josh Feldman on Twitter: @feldmaniac
Have a tip we should know? tips@mediaite.com
Josh Feldman - Senior Editor