Never Never Land: NYT Reporter Describes 'Surreal Ruins' Of Gaddafi's Compound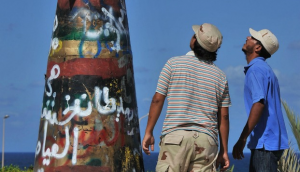 The rebel uprising of Libya has left behind a treasure-trove of "surreal ruins", The New York Times' Robert Worth reports in Sunday's magazine cover story.
Worth details touring the war-torn remains of central Tripoli, astonished to get to go inside the belly of the beast, Muammar Gaddafi's Bab al Aziziya compound. He observed Libyan families were "strolling through and gazing wonderingly at the ruins."
With the help of a local guide, Omar, Worth goes urban exploring through various ransacked intelligence buildings and was bewildered by what was left behind:
The rooms were full of odd, often sinister detritus: boxes full of Libyan and foreign passports, including blanks; a blue bag full of needles with injection tubes attached; surgical masks and gloves. Soon after we arrived, the photographer that I was traveling with, Jehad Nga, recognized the place. He had been held there in March when Qaddafi soldiers detained him for three days, subjecting him to brutal beatings and endless questioning from officers who insisted he was a spy. Nga found the desk where he was interrogated for eight hours at a stretch. He traced a message in the thick dust that now covered the desk surface: "I told you I'd be back."
In addition to touring Tripoli's bizarre playground of debris, Worth was captivated by the absence of vengeance among the Libyan citizens in spite of Gaddafi's mass killings which he carried out against his own people:
Amid all the chaos of Libya's transition from war to peace, one remarkable theme stood out: the relative absence of revenge. Despite the atrocities carried out by Qaddafi's forces in the final months and even days, I heard very few reports of retaliatory killings. Once, as I watched a wounded Qaddafi soldier being brought into a hospital on a gurney, a rebel walked past and smacked him on the head. Instantly, the rebel standing next to me apologized. My Libyan fixer told me in late August that he had found the man who tortured him in prison a few weeks earlier. The torturer was now himself in a rebel prison. "I gave him a coffee and a cigarette," he said. "We have all seen what happened in Iraq." That restraint was easy to admire.
Have a tip we should know? tips@mediaite.com