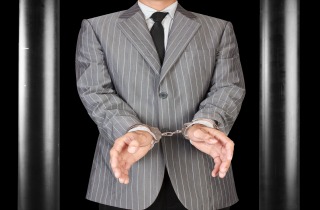 Well, it seems Lindsey Graham might not have been that far off.
Colorado's senators are pushing a bipartisan bill that would give members the power to have the sergeant-at-arms arrest their colleagues if a majority of them are not present for high-stakes negotiations during a government shutdown. Under the "Shutdown Accountability Resolution," which was proposed by Sens. Cory Gardner (R-CO) and Michael Bennet (D-CO), mandatory attendance would be taken every hour between 8 a.m. and midnight for each day in order to encourage speedy negotiations to end a shutdown as quickly as possible.
"If someone's idea is to grind the government to a halt, then members of Congress ought to be darn well sure they're finding a solution together," Gardner told The Denver Post of the proposal. "You can't do it by flying home. You can't do it by going to your respective political corners. You can only do it when you're here together, at work."
Gardner and Bennet told the Post they've been working on the legislation for months, and that their aides have spent "hours" with the parliamentarian to make sure the bill doesn't circumvent existing rules.
"No other enterprise that I have ever worked in produces the kinds of self-inflicted wounds that this institution has been producing over the last several years," Bennet said. "And this is a way of trying to address that."
And there's another part of the proposed bill that could actually compel law enforcement to physically bring them back to the Senate, per the Post:
If the Senate moves to arrest the absent lawmakers, the sergeant at arms would be required, once an hour, to report the names of the missing senators and whatever information was available about their current location.

In extreme situations, the sergeant at arms also would be empowered to recruit other law enforcement officials to track down senators who have gone AWOL — although Senate aides said lawmakers wouldn't be sent to jail but instead brought to the Senate floor.
"I don't think anybody wants a headline back home saying that 'Senator so-and-so had to be escorted by the sergeant at arms to do their job," Gardner said.
Well, that's for sure.
[h/t National Journal]
[Image via Shutterstock]
— —
>>Follow Andrew Desiderio (@forza_desiderio) on Twitter
Have a tip we should know? tips@mediaite.com