The image below is one of the most iconic photos from the aftermath of the 9/11 attacks twelve years ago. Taken by The Record's Thomas Franklin, it depicts three New York firefighters raising a flag at the spot where two planes crashed into the World Trade Center hours earlier. But if you thought that flag was safely preserved somewhere, you would be mistaken, because the flag in this photo has been missing for over a decade.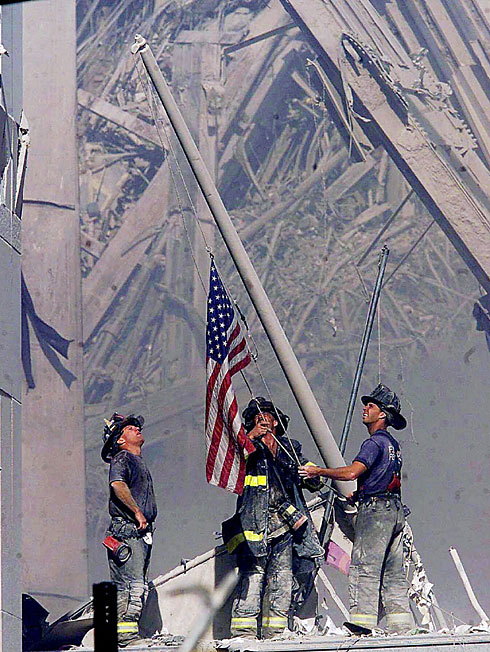 The missing flag has gotten some media coverage in the past, but the mystery surrounding it is back in the spotlight thanks to a new CNN documentary titled The Flag set to air this week.
As the story goes, a flag believed to be the same one in that photo toured the nation and flew proudly at Yankee Stadium and the USS Roosevelt, but it was soon discovered that the flag was not the same size as the one in the photo, and therefore could not have been the same one. Here's what CNN says will be addressed in the documentary:
Tucker and Epperlein interviewed the owners of the original flag, Shirley Dreifus and Spiros Kopelakis. They reveal key details about their flag that distinguish it from the imposter.

"That's not the flag that they raised on 9/11. The flag that went to Yankee Stadium, or was on the ship [the USS Roosevelt], could not have been the flag that was in the photograph," Dreifus says in the documentary.
The documentary will air this Wednesday, September 4th on CNN at 9:00 P.M.
Watch a preview of CNN's documentary below:
h/t The Blaze
—–
Follow Josh Feldman on Twitter: @feldmaniac
Have a tip we should know? [email protected]
Josh Feldman - Senior Editor