New Jersey Appeals Court: If You Text Someone While They're Driving, You Can Be Held Liable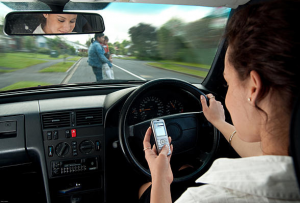 If you send a text to someone while they're behind the wheel of a car, and then they get into an accident, you can be held liable. At least in New Jersey. An appeals court in the Garden State ruled this week that knowingly texting someone behind the wheel of a moving vehicle can make you "liable for negligence" should an accident happen as a result. The ruling stems from a 2009 case involving a couple who lost their left legs when a distracted teen hit their motorcycle, and they tried to sue the person who texted him.
For his part, Governor Chris Christie has called the decision "stupid" because the driver is actually the one who makes the decision to check their phone in the first place.
"You have the obligation to keep your eyes on the road, your hands on the wheel and to pay attention to what you're doing. and I don't know why we can't hold the people who really have the responsibility responsible."
CNN's Doug Gross explains that right now, texting someone behind the wheel of a car is NOT illegal, but it very well could be, given how "aggressive" Jersey has been about cracking down on texting while driving.
New Jersey recently upgraded talking or texting while driving from a secondary to primary offense, and fines for phone-happy drivers have doubled. It's also one of a dozen states that has laws completely banning all handheld cell phone use behind the wheel of a car.
h/t Daily Caller
[Image via Flickr]
—–
Follow Josh Feldman on Twitter: @feldmaniac
Have a tip we should know? tips@mediaite.com
Josh Feldman - Senior Editor