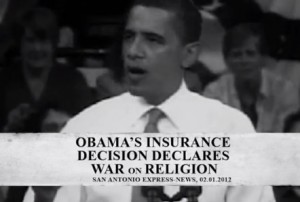 As President Obama tours Colorado emphasizing his support for women's health care, the Mitt Romney campaign is out with a new ad accusing the President of "declar(ing) war on religion," a reference to the preventive services mandate requiring employers to include contraception in the health coverage their employees pay for. The ad also quotes Pope John Paul II, and touts the endorsement of Polish national hero Lech Walesa.
In an accompanying memo to reporters, the Romney campaign reinforced their accusation:
Today, Romney for President and the Republican National Committee released a new coordinated television advertisement, "Be Not Afraid." President Obama has declared war on religion by forcing religious institutions to go against their faith. Mitt Romney will stand up and protect religious freedom whenever it is threatened.
The ad prominently features the headline "Obama insurance decision declares war on religion," and attributes it to The San Antonio Express-News, giving the impression that this headline was from a local news article or newspaper editorial board. In fact, the article referenced in the Romney campaign's memo is a syndicated column by conservative Michael Gerson, which originally appeared in The Washington Post under the headline "Obama plays his Catholic allies for fools."
Additionally, the column was published on January 20, a week and a half before the White House announced a compromise on the mandate which would allow contraception to be covered for women who work at non-church religious institutions, but would not require those institutions to pay for it. Conservatives and church leaders have continued to cast this as an assault on religious freedom, while normal people view it as a check on religion's ability to force beliefs on employees in non-religious jobs.
The contraceptive issue is part of a larger narrative in this election about Republican policies toward women that has been dubbed the "War on Women," one which came to a head in March when radio host Rush Limbaugh attacked law student and activist Sandra Fluke, labeling her (and other women who support access to contraception) "sluts." Fluke has been speaking at Obama events in Colorado this week, where one recent poll shows the President trailing Mitt Romney, 50%-45%.
Here's the full Romney campaign memo accompanying the ad:
Boston, MA – Today, Romney for President and the Republican National Committee released a new coordinated television advertisement, "Be Not Afraid." President Obama has declared war on religion by forcing religious institutions to go against their faith. Mitt Romney will stand up and protect religious freedom whenever it is threatened.

To View "Be Not Afraid" Please See: http://mi.tt/OUeuue

AD FACTS: Script For "Be Not Afraid"

VOICEOVER: "Who shares your values?"

VIDEO TEXT: "Who Shares Your Values?"

VOICEOVER: "President Obama used his healthcare plan to declare war on religion, forcing religious institutions to go against their faith."

VIDEO TEXT: "Obama Insurance Decision Declares War On Religion"

·          San Antonio Express-News Headline: "Obama Insurance Decision Declares War On Religion" (Michael Gerson, "Obama Insurance Decision Declares War On Religion," San Antonio Express-News, 2/1/12)

VOICEOVER: "Mitt Romney believes that's wrong."

VIDEO TEXT: "Warsaw, Poland"

VIDEO TEXT: "July 31, 2012"

MITT ROMNEY: "[I]n 1979, a son of Poland, Pope John Paul II, spoke words that would bring down an empire….Be not afraid'…"

·         MITT ROMNEY: "And here, in 1979, a son of Poland, Pope John Paul II, spoke words that would bring down an empire and bring freedom to millions who lived in bondage. 'Be not afraid'—those words changed the world." (Mitt Romney, Remarks, Warsaw, Poland, 7/31/12)

VOICEOVER: "When religious freedom is threatened, who do you want to stand with?"

VIDEO TEXT: "Endorsed By Lech Walesa"

MITT ROMNEY: "I'm Mitt Romney and I approve this message."
Have a tip we should know? tips@mediaite.com