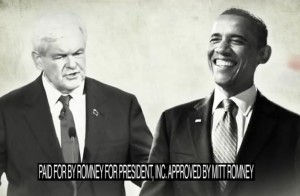 Former Massachusetts Gov. Mitt Romney, reeling from his defeat in the South Carolina primary, and now trailing in the polls in Florida, has released a new ad in the Sunshine State that goes over familiar territory like former House Speaker Newt Gingrich's non-lobbying for Freddie Mac and his historic ethics fine, but which is punctuated with Romney's last enduring argument for Republican voters: Barack Obama and Co. are rooting very hard for a Gingrich win.
Romney had a disastrous week, going from a ten-point polling lead over chief rival Newt Gingrich in South Carolina to a twelve point defeat in that state's primary on Saturday. In about that same period, he has gone from leading Gingrich by as much as 26 points in Florida, to now trailing him by nine points in one poll.
The tenor of this ad, which is more relentlessly negative than the darkroom at the world's last remaining Fotomat, indicates that things could get very nasty within the next eight days. It's worth noting that this isn't some third-party PAC attack, but an honest-to-goodness, "I'm Mitt Romney and I approved this message" official Mitt Romney Campaign Ad™.
The spot itself is fairly standard negative ad boilerplate, with dour voiceover, grainy film noir photography, and New York Post-worthy fonts. One weird emerging trend from Romney's recent ads is the use of a seriously old-fangled typewriter sound effect. That might cut it in Florida, but if Romney wants to appeal to voters who still eat dinner later than 4pm, maybe he should go to something like the G-Chat sound effect, or the "Droid™" text notification.
There are probably some Republican voters on Florida who don't know about Gingrich's work as a historian for Freddie Mac, or his ethics fine while Speaker of the House, but the real point of this ad comes in the closing seconds, as Gingrich is pictured with GOP Emanuel Goldstein stand-in Barack Obama, and the narrator correctly notes "If Newt wins, this guy would be very happy."
Unfortunately, based on the events of the past week, it looks like the most effective attack in this ad comes right after that: "I'm Mitt Romney…"
Here's the ad, via YouTube:
Have a tip we should know? tips@mediaite.com