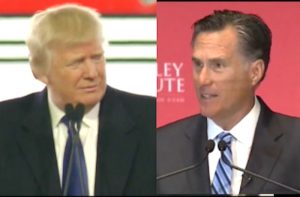 Mitt Romney will not be Donald Trump's Secretary of State, but as he was being considered for the post, there were people saying that if he wants it he would need to apologize.
Trump loyalists like Mike Huckabee were on TV saying Romney should apologize, and there was a report a few weeks ago saying the Trump transition team was considering demanding an apology from him.
Well, a new report out from CNN today confirms that Trump and his team were seeking an apology:
CNN has learned that Vice President-elect Mike Pence and Priebus also wanted Romney to apologize as a way to smooth over the tension.

After Conway and others attacked Romney publicly –– lobbying against his selection in television interviews –– and more than a week after the two had begun talking, Trump raised the possibility of a public apology with Romney as a way of mollifying those critics, the sources said. He asked Romney to say publicly he was "wrong" about Trump.

Trump personally saw it in business deal terms: He would get the mea culpa he sought from Romney; Romney would get the job he covets.
Well, the man who wrote a book literally titled No Apology and who strongly touted that stance during the 2012 campaign reportedly declined to apologize.
The sources who spoke with CNN about this decision offered a reason Trump did this:
"It was clearly a sticking point and bothered Trump," a source said.

The sources believe, though, that Trump wasn't asking for himself. He wanted an apology from Romney to soothe over tensions within his own camp.
Exxon CEO Rex Tillerson has been chosen by Trump for the Secretary of State position.
[image via screengrab]
— —
Follow Josh Feldman on Twitter: @feldmaniac
Have a tip we should know? tips@mediaite.com
Josh Feldman - Senior Editor