Newsweek Writer Destroys Trump Supporter's 'Nonsense' Arguments Against Releasing Tax Returns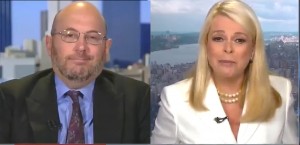 On CNN Wednesday afternoon, Newsweek's Kurt Eichenwald was unsparing in his criticism of Trump supporter and author of Beating Obamacare Betsy McCaughey, calling out her "nonsense" arguments in defense of the candidate's refusal to release his tax returns.
Trump, his supporters, and his staff have consistently ducked behind the excuse that the candidate is under IRS audit — a defense that is invalid. "Trump can disclose the broad confines of everything that we'd want to know about his financial condition […] without doing anything to affect an audit," Eichenwald told CNN's Brooke Baldwin.
Trump has never actually released evidence that he is even under an audit — a point raised by Baldwin. McCaughey would only say that Trump has "demonstrated that he is under audit" without elaborating.
Eichenwald said Trump's refusal to disclose was simply a matter of him not wanting the American people to know that he had lied about his financial state, while McCaughey averred that Trump was a victim of what "Democrats call 'tax shaming.'"
Eichenwald invoked McCaughey's history of making spurious claims, including once arguing that Obamacare was dangerous because it would enable hackers to access information about Americans' sexual health: "You say nonsense!" Eichenwald said.
"I have no idea what your personal attack is about," McCaughey said. "That is ridiculous."
"I can show you what you wrote, it was nonsense. I wrote about it," he responded. (She did say that and he did write about it.)
In previous panels, Eichenwald has consistently demonstrated his limited tolerance for B.S. when sparring with Trump supporters.
You can watch the heated exchange above, via CNN.
—
[image via screengrab]
Sam Reisman (@thericeman) is a staff editor at Mediaite.
Have a tip we should know? tips@mediaite.com