NFL Commish Goodell Backed Out of Between Two Ferns Because He Can't Take Jokes About Himself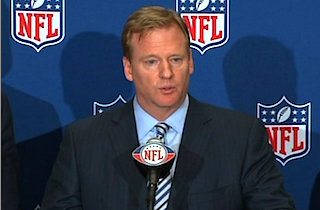 During South by Southwest, an executive producer at Funny Or Die teased us all with a beautiful thing that never was: Zach Galifianakis interviewing NFL commissioner Roger Goodell on Between Two Ferns.
SBNation had sent a reporter to SXSW who came out with this beautiful story from a panel with Alex Richanbach, the executive producer of Funny or Die Sports. Back in March of 2014, the NFL and Funny or Die were discussing the possibility of Goodell appearing on the show. As SBNation put it, "the league was obviously interested in a bit of goodwill coming their way for a change," and since they'd just seen Barack Obama successfully go on the program to promote Healthcare.gov, they wanted some of that Fern magic, too.
However, the NFL apparently completely forgot that Galifianakis's awkward hostility towards his interview subjects was part of the web series' schtick, and when they realized that Goodell would be the butt of some jokes, they responded angrily:
So, the league responded by telling Funny or Die that they would not allow Roger Goodell to subject himself to ridicule from a comedian of all people. Professional football is a very serious business made of men with iron wills and stone faces and that starts from the top down. I wasn't completely surprised to hear that the NFL didn't understand how jokes work, but the next part was over-the-top, even by NFL standards.

In an attempt to salvage the interview, Funny Or Die countered by reminding them that even the leader of the free world was willing to take a joke, saying "but Obama did it, and he's President of the United States."

Richanbach said that the league shot back, "well, he's not the commissioner of the NFL."
So there.
[h/t Deadspin]
[Image via screenshot]
—
>> Follow Tina Nguyen (@Tina_Nguyen) on Twitter
Have a tip we should know? tips@mediaite.com