NH GOPer Refuses to Apologize for Mocking Senator After Her Staffer Is Arrested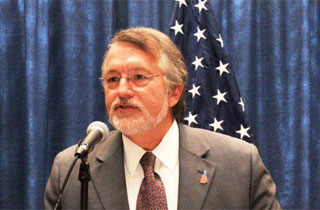 There are some things for which you just don't attack people, unless you're former New Hampshire House Speaker Bill O'Brien: the Republican is taking heat from his own party after he condemned Sen. Kelly Ayotte (R-NH) for hiring a staffer who was recently arrested for prostitution.
David Wihby, Ayotte's former State Director, was recently arrested for soliciting a prostitute, and days later he resigned from his position, attempted to take his own life. In a statement, Ayotte said that she was "shocked and deeply saddened" by the news about her longtime friend. "This is a very difficult time, and my thoughts and prayers are with everyone involved," she added.
However, O'Brien, who claims that Wihby orchestrated campaigns against his attempts to reclaim the Speakership, blasted Ayotte for not condemning Wihby's actions, and arguing that it somehow reflected her judgement. "Perhaps Dave Wihby can persuade Sen. Ayotte and her pals to circulate a letter on his behalf," he mused on Facebook. "Sort of an endorsement / character reference. Now, let's see, whose signatures should be on that letter? Certainly Ayotte. No sense in ducking her involvement now."
Despite immediate backlash, O'Brien doubled down the next day:
One may be lucky enough to have sufficient intelligence and family support to go to law school, and the luck and talent to be propelled through a variety of government-appointed jobs until money gathers to put you into highest public office, but these advantages, friendships and political maneurvering should never allow one to forget this exploitation.

Sen. Ayotte's poor selection and supervision of staff resulted in a split in the party. She has also now made a poor choice in ignoring the human trafficking that her "friend" was so willing to finance. She didn't even have the instincts to condemn it.

She can't just sponsor some legislation, such as the Federal Runaway and Homeless Youth and Trafficking Prevention Act, and think that the issue ends there. It doesn't end and it doesn't help that Sen. Ayotte would support those who would perpetuate it.
His fellow GOPers in New Hampshire quickly denounced his attacks, with New Hampshire Republican Party chair Jennifer Horn calling his statements "extremely disappointing and beneath the dignity of his public office. It is wrong to exploit a serious issue in a petty attempt to settle an old political score.
"True conservatism includes expressing some compassion for those who suffer. I would hope that Representative O'Brien could join us in offering sympathy for somebody in their time of need."
O'Brien, however, refused to apologize. "We have a sitting U.S. senator who is up for reelection and people think that this is an overriding consideration, but it's also important that when we are confronted with behavior with one of our own that we do not try to ignore the consequences of it," he told WMUR.
[TPM]
[Image via William O'Brien/Facebook]
—
>> Follow Tina Nguyen (@Tina_Nguyen) on Twitter
Have a tip we should know? tips@mediaite.com