No Joke: Breitbart Reportedly Works Out of the Basement of a Muslim Millionaire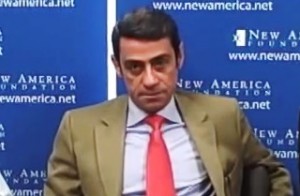 The staff of alt-right wesbite Breitbart was reported Friday to work in the basement of a rich Egyptian Muslim. Yes, seriously.
The Guardian US reported that Breitbart executive and Trump CEO Steve Bannon was registered to vote in Florida, a state he does not live in. Other journalists have since thrown some cold water on the significance of that revelation, but buried in the piece is this factoid [emphasis added]:
Bannon also co-owns a condominium in Los Angeles and is known to stay at the so-called "Breitbart embassy," a luxurious $2.4m townhouse beside the Supreme Court in Washington DC, where his website's staff work from basement offices. A Bloomberg profile of Bannon published last October, with which he cooperated, stated that Bannon "occupies" the townhouse and described it as being "his".

But according to records at the DC office of tax and revenue, the Breitbart house is actually owned by Mostafa El-Gindy, an Egyptian businessman and former member of parliament. Gindy has received favorable coverage from Breitbart News, which styles him as a "senior statesman", without an accompanying disclosure that he is the website's landlord.
Before The Guardian, El-Gindy's ownership of the de facto headquarters of Breitbart News has actually been unwittingly reported on before by the anti-Breitbart blog BreitbartUnmasked.
Breitbart News, LLC has a permanent venue for their party: "the embassy," a $2 million home in Washington, DC. The address belongs to Mustafa Elgindy (spellings vary), a unique character in contemporary Egyptian politics… Elgindy is a former Egyptian parliamentarian who operates cruise boats on the Upper Nile with his brother. He is Muslim, but within the context of Egyptian politics his politics are rather liberal.
The irony of Breitbart– an outlet that takes a dim view of Islam, to put it lightly– working in the home of a wealthy Middle Eastern foreigner is of course pretty striking. But El-Gindy and Breitbart are both fierce enemies of the Muslim Brotherhood and criticized the Obama administration's support of the Egyptian government after the Muslim Brotherhood won control of the presidency in 2012.
As The Guardian points out, Breitbart wrote several puff pieces about El-Gindy without ever revealing their pre-existing relationship, calling him a "senior Egyptian statesman" and a "leading opposition figure" who has "played a pivotal role" in Egyptian democracy.
[Image via screengrab]
——
>>Follow Alex Griswold (@HashtagGriswold) on Twitter
Have a tip we should know? tips@mediaite.com