NOT A LEAK! Politico Reporter Reveals She Got Scaramucci's Financials Via Public Request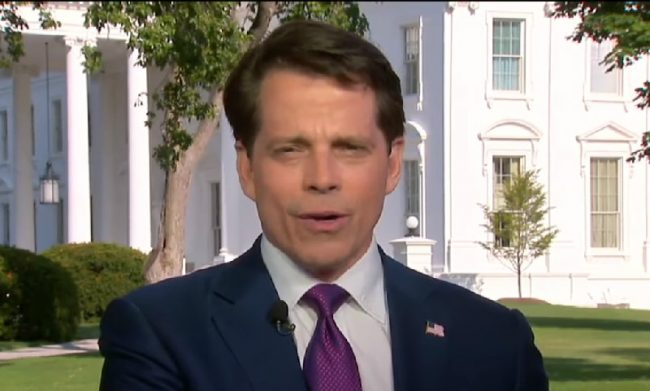 Last night, White House Communications Director Anthony Scaramucci created a firestorm of controversy when he seemed to publicly accuse White House Chief of Staff Reince Priebus of leaking his financial disclosures to Politico. That story stated that Scaramucci stands to profit from an investment firm he has an ownership stake in while working in the White House.
Well, the reporter who worked on that story took to Twitter this morning to note that she was able to obtain the comms director's financials as they were publicly available:
Wow, sorry I slept through all the fun! FWIW, Mr @Scaramucci's Form 278e is publicly available from ExIm. Just ask. https://t.co/Io2ed5IEuj

— Lorraine (@Woellert) July 27, 2017
My source for @Scaramucci financials was Ex-Im Bank. Period. https://t.co/seNUtnwQoz

— Lorraine (@Woellert) July 27, 2017
Following Scaramucci's initial tweet tagging Priebus, it was reported that he went to the FBI and asked them to investigate the chief of staff for leaking. Later in the night, Scaramucci deleted the tweet and sent out another one claiming senior White House officials were part of his effort to find the leakers. This was in the wake of the New York Times reporting that his financial disclosures had been available since July 23rd.
This morning, Scaramucci called into CNN's New Day to try to clarify his Priebus tweet. In the wild 30-minute interview, he railed against leaks, saying the "fish stinks from the head." He added that his relationship with Priebus is like "Cain and Abel" while stating that he was fine with certain leaks, just not "palace intrigue" ones. Meanwhile, a senior administration official texted Bloomberg's Joshua Green to tell him the Scaramucci TV spot was a "car crash," something Green shared live on CNN.
UPDATE 11:03 AM ET: Woellert appeared on SiriusXM's The Michael Smerconish Program and told the host that Priebus did not leak anything to her, pointing out that she just asked the Ex-Im Bank for the information and got it as it was publicly available. Asked by Smerconish if Priebus told her where to get the forms, she said the following:
"The Ex-Im Bank gave me the financial disclosure form…because I asked for it. There was no leak."
[image via screengrab]
—
Follow Justin Baragona on Twitter: @justinbaragona
Have a tip we should know? tips@mediaite.com