Not Just 'Right-Wing Nuts': 8 House Democrats(!) Blast Obama For Secretive Drone Policy
Not Just 'Right-Wing Nuts': 8 House Dems(!) Blast Obama For Secretive Drone Policy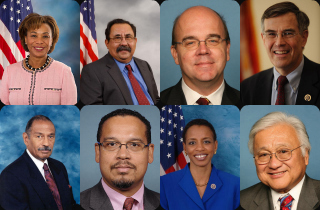 When Sen. Rand Paul (R-KY) led a filibuster last week against the administration's lack of answers on its use of targeted assassinations, many wondered why Sen. Ron Wyden (D-OR) was the only Democrat to show his support. While many on the left (and the right) have dismissed Sen. Paul and his drone filibuster pals as stoking the fears of "right-wing conspiracy nuts" and playing to a largely anti-Obama crowd, it turns out that Democrats are leading the House fight for clarity on the drone strike program.
In a letter sent to President Obama on Monday, eight House Democrats — led by Rep. Barbara Lee of California — slammed the administration for its "increasing devolution of accountability, transparency, and Constitutional protections in U.S. counterterrorism operations."
Joining Lee in signing the note were some of the House's most progressive members: Reps. John Conyers (MI), Donna Edwards (MD), Sean Hannity's best friend Keith Ellison (MN), Raul Grijalva (AZ), Rush Holt (NJ), Mike Honda (CA), and James McGovern (MA).
Thank goodness for these Democrats having the audacity to prove that concerns over the administration's secretive drone strikes is not just a concern among civil libertarian Republicans like Paul (and some right-wing "bandwagon-hoppers").
The Democrats' letter expresses concern over five particular aspects of the drone program:
"An unbounded geographic scope; unidentified 'high-level' officials with authority to approve kill-lists; a vaguely defined definition of whether a capture is "feasible"; an overly broad definition of the phrase "imminent threat," which re-defines the word in a way that strays significantly from its traditional and legal meaning; and the suggestion that killing American citizens and others would be legitimate "under the Authorization for Use of Military Force and the inherent right to self-defense."
The 8 Dems also blasted the executive branch for setting a "dangerous precedent" with its recent behavior; and demanded that Obama release, "in an unclassified form, the full legal basis of executive branch claims in the areas which are the subject of this letter. The Executive's claims of authority need to be fully articulated to the whole Congress and the American people."
The progressives also used the president's own words against him, reminding him that he once promised to "enlist our values in the fight." Therefore, they asked, he must "follow through with [his] commitment to engage with Congress to ensure that the ways in which we target, detain, prosecute, and kill suspected terrorists are consistent with the commands of our Constitution, including our system of checks and balances."
Bravo.
Read the full letter below:
— —
>> Follow Andrew Kirell (@AndrewKirell) on Twitter
Have a tip we should know? tips@mediaite.com