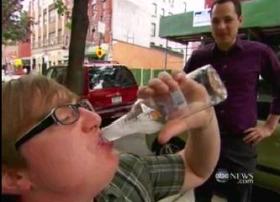 Listen up, bros. If you watched Kobe Bryant lead the Lakers to a victory in the NBA Finals Game 7 last night, and left your TV on for awhile, you got to see ABC News' Nightline do a segment on Bros Icing Bros!
Although anchor Cynthia McFadden "doesn't get it," she's not a bro, and the bros in the report love this thing.
"And now we turn to a marketing story – or is it?" introduced McFadden at the beginning of the segment, describing the phenomenon as "bros challenge each other with sweet Smirnoff cocktails. It is not responsible drinking, but it is a party prank that has gone viral." (That was the last reference to the potential dangers of the activity, unlike the focus on Fox News last week.)
Then it was time for Jeremy Hubbard's report – who recently left the early morning anchor slot on World News Now, and was embedded in the underworld of icing bros. He profiled Jay Belin, creator of the "You Got Iced" tumblr and general that-guy. "The reason the game is so funny is because the product you're chugging is gross," explains Belin. Also: "It certainly has a very feminine quality to it and, you know, dropping to your knees has its own connotations." (Wait, what…oh really.)
At the end of the report, you'll see Belin gets a surprise icing from his bro, who says, "You know not to come out unarmed." Even if it was just for the cameras, please know you live in a world where these people exist.
Not in the Nightline report is the fact that BrosIcingBros.com is currently down – either having been sold and awaiting relaunch or as part of some Smirnoff "measures."
ABC gets iced below – enjoy the inevitable "Ice, Ice, Baby" song and introduction of the word "fratboyishness":


—–
» Follow Steve Krakauer on Twitter
Have a tip we should know? tips@mediaite.com