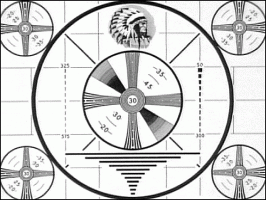 Relying on the cult viewership of one of its most popular shows, Iron Chef America, Food Network had literally been plugging its Iron "Super Chef" Battle complete with secret guest judge and ingredient of "national importance" (spoiler: Michelle Obama and White House garden veggies) online and on TV for months when their airwaves in New York, New Jersey and Connecticut went blank. Actually they didn't go blank – but that's just the beginning of the story.
As of January 1st, 2010, Scripps Networks has chopped its channels from Cablevision while the two media companies continue to negotiate broadcasting fees. Currently and until further notice, when viewers flip to Food Network or HGTV, they'll see a white screen stamped with network logos and hear a looped message expressing sorrow for the absence of their food porn with a steaming side of "take it up with Scripps."
Battle Cable rages on, infuriating spatula-wielding stay-at-home moms and robbing the Tri-State area's angel-faced children of freshly baked cookies. Scripps' proposed 200% fee increase, up from an average annual increase of about four percent, would significantly increase rates for Cablevision subscribers to an estimated 75 cents per month for the two channels, viewed by over 2 million households during primetime hours alone. This presents the risk that Cablevision customers will walk their gardening Crocs right over to rival Verizon Fios to get their fix.
Scripps declined the offer to keep HGTV and Food Network on air while
negotiations continue, prompting some to wonder if, in its cuddly corporate heart, they're considering their loyal, Slap Chop-buying viewers.
Why can't this be more like the recent Time Warner/Fox settlement,
casualty-free just in time for the Sugar Bowl? Dare we compare football and Jack Bauer to mini-quiches and fixing dry rot?
Have a tip we should know? [email protected]