Greta Van Susteren Blasts The Daily Beast For Story Saying She Mocked Hillary Clinton Concussion
Greta Blasts Daily Beast For Claiming She Mocked Hillary Clinton's Concussion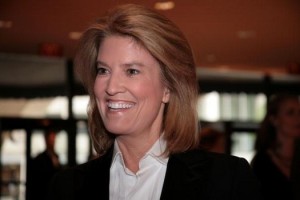 Greta Van Susteren took to her blog on Tuesday to send a message to The Daily Beast, which published a story titled "Hillary Clinton Haters Hammered for Mocking Her Illness." In it, Van Susteren is quoted deeming Clinton's illness an "immaculate concussion." The Fox News host blasted the site, noting that she not only never make the remark — but criticized those who did make "snarky" comments.
RELATED: Greta Blasts Fox News Colleagues Who Got 'Snarky' On-Air About Hillary Clinton's Concussion
In the piece, Lauren Ashburn wrote:
And in case you haven't heard, attacking someone who's ill speaks more to the character of the person doing the mocking.

Columnist Charles Krauthammer said Clinton was suffering from "acute Benghazi allergy." Greg Gutfeld, co-host of Fox's The Five, said: "How can she get a concussion when she has been ducking everything?"

Greta Van Susteren joked that this appeared to be an "immaculate concussion." Bill O'Reilly chimed in, saying he thought Clinton could at least make a phone call.
"Shame on" the writer and her editors, Van Susteren said. "Not only did I speak out against my colleagues on this issue — but I was never even on the O'Reilly Factor discussing this. I never never never said this about the Secretary of State." She asked for an apology in a "big way" — "not hidden in some little footnote."
Van Susteren later posted again, saying she called Daily Beast editor Tina Brown who said, "If it is wrong, I will fix it. We will take it out." After saying she wanted a prominent correction, Van Susteren said Brown "cut me off and hung up on me."
Indeed, Van Susteren did take to GretaWire to speak out against those who mocked Clinton's condition on air. "I don't agree with any of my FNC colleagues or anyone else who is a tad bit sarcastic on our air about Secretary Clinton's health," she wrote, adding that she believed Clinton really was ill. "I don't agree with being snarky about someone's health."
A Bill O'Reilly segment did include the remark The Daily Beast notes. It featured Laura Ingraham, who referenced her Catholicism and joked about an "immaculate concussion," crediting one of her "tweeps" for the phrase.
UPDATE: The Daily Beast corrected the error:
Editor's note: In an earlier version of this article, Greta Van Susteren was incorrectly quoted as joking that Hillary Cilnton had had an "immaculate concussion." In fact, that phrase was used by Laura Ingraham. We apologize for the error.
UPDATE II: Howard Kurtz wrote a post noting that he was the one who made the error in the story, and apologized for it. Van Susteren thanked him. Kurtz wrote:
I'm always calling on journalists to admit their mistakes; today it's my turn.

I want to apologize to Fox's Greta Van Susteren for adding incorrect information about her to a Daily Beast article.

In Lauren Ashburn's piece about those who made fun of Hillary Clinton's illness, I edited in a comment about whether she had suffered an "immaculate concussion" and attributed it to Van Susteren. In fact, it was said by Laura Ingraham.

What's more, as the piece noted, Van Susteren took to task those who mocked Clinton's illness, including her own Fox colleagues. For that, she deserves kudos, not an inaccurate account.
Have a tip we should know? tips@mediaite.com