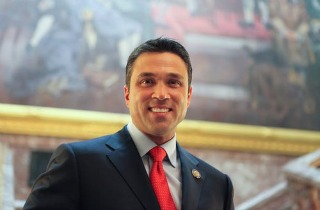 New York Congressman Michael Grimm has had his fair share of controversies and embarrassing moments while in office. In fact, earlier this year he pleaded not guilty to 20 counts in a federal indictment involving a shady business deal he completed before taking office. Domenic Recchia, Grimm's Democratic challenger, has been relentlessly attacking Grimm for the charges.
And now the time has come for the Staten Island Advance to endorse a candidate. To say the paper's editorial board members weren't happy with either candidate is an understatement.
From the endorsement:
"There are, on occasion, electoral races in which both candidates are of high quality and high integrity and conduct a tough but fair campaign about the issues. Fair-minded voters have a difficult choice, but they can know that, no matter who is elected, they'll be well represented by someone who won't embarrass their community. The election for the House of Representatives seat in the 11th New York Congressional District is nothing like that."
While acknowledging that having their congressman under federal indictment is "a black mark on this borough and has made it the laughingstock of the nation," the editorial board said Recchia's "astonishing incoherence in public statements only adds to the ridiculousness," so they just had to go with Grimm. But if convicted of wrongdoing, they said, Grimm should step down.
And finally:
"As distasteful as this contest may be on a number of levels, we have a choice to make, as do the voters. On Tuesday, Mr. Grimm is still the best practical choice for Staten Island. Our system of justice calls for us to wait until February, when he faces trial, to discover the rightness or wrongness of that decision."
It's not necessarily a ringing endorsement, but the paper did say that Grimm "is in tune with the needs of his district" and "his mostly moderate conservative views well represent those of a majority of Staten Islanders."
[Image via Twitter/Rep. Michael Grimm]
— —
>>Follow Andrew Desiderio (@forza_desiderio) on Twitter
[Note: Mediaite intern Andrew Desiderio is a student at The George Washington University.]
Have a tip we should know? tips@mediaite.com