NY Times PR Roasts Conservative Author Dennis Prager For 'Hypocrisy' in Rare and Stunning Tweetstorm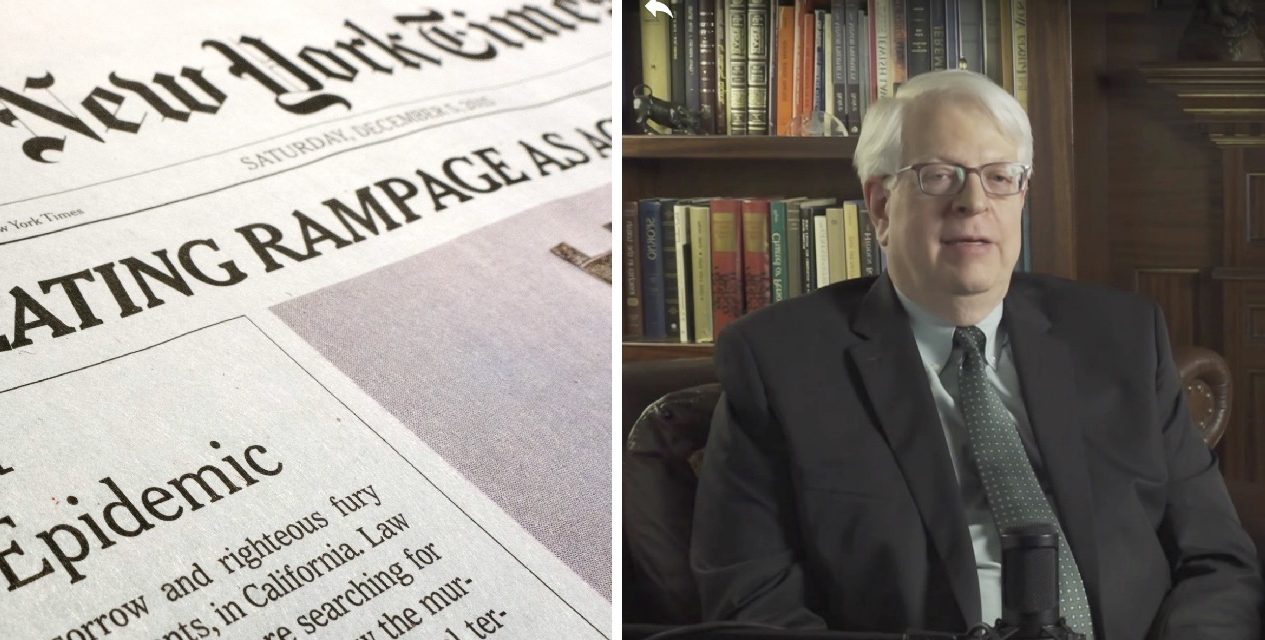 The Gray Lady, on Wednesday night, was seeing red.
In what was a truly stunning Tweetstorm, the official account for the PR department of The New York Times roasted conservative author Dennis Prager following an essay Prager wrote charging the paper with intentionally leaving his book off its Best Seller list because it has a bias against religious works such as his latest — The Rational Bible: Exodus.
As a writer (who, for the record, had a previous book on that list), I have long known it isn't a best-seller list, and I don't pay attention to it. But I paid attention last week to see if my recently published book, which opened up on Amazon as the second best-selling book in America, was on the list. It wasn't.

The book, "The Rational Bible: Exodus," the first volume of a five-volume commentary on the first five books of the Bible (the Torah), was No. 2 in nonfiction on The Wall Street Journal best-seller list; No. 2 on the Publishers Weekly nonfiction best-seller list; No. 1 on Ingram, the largest book wholesaler in the country; and, according to Nielson BookScan, the organization that tracks 75 to 85 percent of book sales, No. 2 in hardcover nonfiction. In fact, according to Bookscan, it outsold 14 of the 15 books on The New York Times hardcover nonfiction best-seller list. But again, it is not even listed on the New York Times best-seller list.

I was told years ago that The Times best-seller list almost never includes overtly religious books. I believe it but cannot prove it. I was told The Times doesn't even monitor Christian bookstore sales (though many Christians have bought my commentary, few of its sales thus far have been through Christian bookstores).
The communications department for the Times responded to the accusation with a fiery Twitter defense:
Hypocrisy alert. @DennisPrager wrote a dishonest essay about our best-sellers lists. He claims, "I have long known it isn't a best-seller list, and I don't pay attention to it." Though he lists "NYT best-selling author" on his twitter bio and his own site. pic.twitter.com/SAm5zanslx

— NYTimes Communications (@NYTimesPR) April 18, 2018
NYT's best-seller lists are based on a detailed analysis of book sales from a wide range of retailers in locations across the U.S. Each week we provide our readers the best assessment of what books are the most broadly popular at that time.

— NYTimes Communications (@NYTimesPR) April 18, 2018
Among the retailers that report to us, very few disclosed sales of Mr. Prager's book in the past three weeks. pic.twitter.com/xnkkCrc36H

— NYTimes Communications (@NYTimesPR) April 18, 2018
His argument has no basis in fact and includes a number of factual inaccuracies. pic.twitter.com/cSTtOIVrD2

— NYTimes Communications (@NYTimesPR) April 18, 2018
Rukmini Callimachi, an acclaimed foreign affairs correspondent for the Times, noted the extremely rare nature of this response:
I don't remember ever seeing such a strongly-worded tweet from an official @nytimes account. A sign of the times we live in, where the assault on the independent press is unrelenting. https://t.co/YuUZoouwNH

— Rukmini Callimachi (@rcallimachi) April 18, 2018
[New York Times photo via Getty Images, Prager photo via screengrab]
——
Follow Joe DePaolo (@joe_depaolo) on Twitter
Have a tip we should know? tips@mediaite.com
Joe DePaolo - Senior Editor