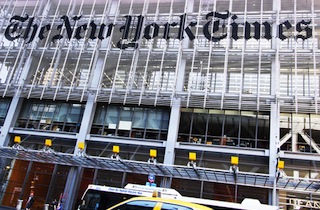 New York Times publisher Arthur Sulzberger, Jr. released a memo Thursday afternoon rebutting claims that former Executive Editor Jill Abramson was fired yesterday over issues of pay disparity, stating, "Compensation played no part whatsoever in my decision that Jill could not remain as executive editor."

Shortly after Abramson, the first female executive editor in the paper's history, was unceremoniously dismissed from her position yesterday, New Yorker media reporter Ken Auletta reported that Abramson had recently become aware of pay disparities in her salary and pension when compared to those of previous editors.
RELATED: New Yorker's Auletta: Abramson 'Wasn't Just Fired Because of Pay Disparity'
"It is simply not true that Jill's compensation was significantly less than her predecessors," Sulzberger wrote Thursday. "Her pay is comparable to that of previous executive editors. In fact, in her last full year in the role, her total compensation package was more than 10% higher than that of her predecessor, Bill Keller, in his last full year as Executive Editor."
Sulzberger pointed out that Keller had been with the Times much longer than Abramson, and so had accrued a larger pension, and also that all pensions had been frozen in 2009.
"This and all other pension changes at the Company have been applied without gender bias and Jill was not singled out or differentially disadvantaged in any way," he said. "The reason — the only reason — for that decision was concerns I had about some aspects of Jill's management of our newsroom, which I had previously made clear to her."
See the full memo below, via the Intelligencer: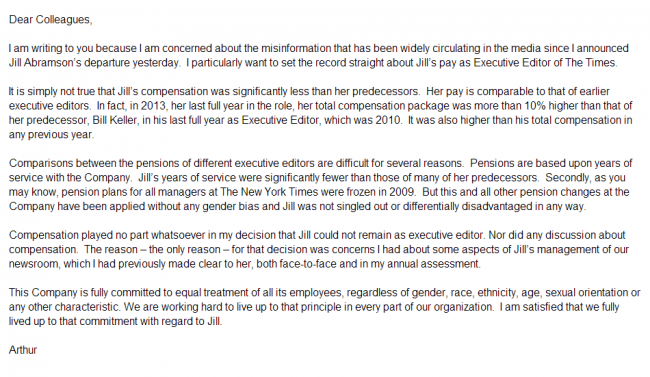 [Image via Erika Cross / Shutterstock.com]
——
>> Follow Evan McMurry (@evanmcmurry) on Twitter
Have a tip we should know? tips@mediaite.com