NYPD Commish Apologizes for James Blake Tackling: 'Race Has Nothing to Do with This'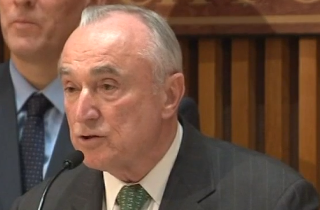 Yesterday, Former Tennis star James Blake was tackled by five undercover cops outside his hotel after being mistaken for an identity thief. Today, NYPD Commissioner Bill Bratton said at a conference that he intends to apologize for the arrest, saying Blake was "inappropriately" slammed to the ground while waiting for his car.
Blake previously stated that he expects a formal apology from the NYPD, saying was speaking out because other people have been treated as he was, but they "don't have a media outlet to voice that to."
"In my mind there's probably a race factor involved," Blake said, "but no matter what there's no reason for anybody to do that to anybody."
Bratton stated today that he learned of the event through the media, rather than any official report from his men. The commissioner went on that the first officer who came up to Blake has been placed on modified assignment, and that his gun and badge have been confiscated until an investigation could be completed.
Chief of Detectives Robert Boyst also spoke at the conference, where he agreed with Bratton that the arresting cops had an Instagram photo of the man they were after, and that Blake had a "remarkable likeness," to him.
"If you look at the photograph of the suspect it looks like the twin brother of Mr. Blake," Bratton said. "So let's put that nonsense to rest right now, race has nothing to do with this."
Bratton said that he has reached out to Blake, but has not yet received word back from him.
You can watch a report on the story here, via New York Daily News:
And watch Blake's tell-all interview with Good Morning America from today:
[h/t Fox News]
[image via screengrab]
Have a tip we should know? tips@mediaite.com