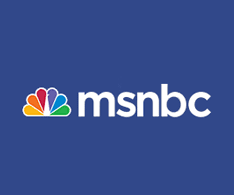 The New York Times' Media Decoder blog raised an interesting possibility today – MSNBC.com, the NBC/Microsoft co-owned news site, may be re-branding itself as…something else, in an attempt to distance itself from the cable news channel of the same name.
The Times' Brian Stelter writes:
The two parents have determined that the brand of MSNBC.com, a strictly objective news Web site, is widely confused with MSNBC, the cable channel that has taken a strongly liberal bent in recent years, according to internal memorandums obtained by The New York Times this week.
One memo by MSNBC.com president Charlie Tillinghast described giving both the site and the network the same name as "brand insanity," and it's easy to see what he's talking about. MSNBC.com is a prominent news site – Stelter's post said ComScore pegs MSNBC.com's network of sites at 50 million users a month. Giving such a site the exact same name as a prominent, but separate, news network owned by the same parent companies is a perfect recipe for confusion.
But the very fact that MSNBC.com is as popular as it is makes the name tough to change; Stelter calls it "akin to a business closing a bustling storefront and posting a sign that asks customers to visit its new location." But this is a special case: the dueling MSNBCs constitute a terribly confusing setup. According to Stelter, the memos said if the name change is enacted, MSNBC.com would be used only for the MSNBC TV channel, while what is currently MSNBC.com would switch to NBCNews.com (which already redirects to MSNBC.com anyway) or something similar.
While such an abrupt shift in site names would likely lead to some confusion, it couldn't be any more confusing than the already-existing "MSNBC network vs. MSNBC.com" problem. Tillinghast might think it's insanity to keep both names the same, but the real insanity was that anyone thought giving two separate operations the same name was a good idea in the first place.
Photo via
Have a tip we should know? tips@mediaite.com