NYT's David Carr Confronts Chuck Johnson over Publishing Addresses of NYT Reporters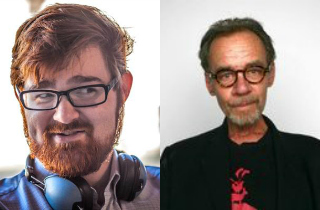 Before he was known for publicizing the (alleged) name and (incorrect) photo of the victim in the Rolling Stone UVa rape story, fire-breathing conservative blogger Chuck Johnson was in a battle over his publication of the addresses of two New York Times reporters, an action that led to threats against them.
Johnson, who has made a nasty habit of crash landing into national stories, said he published the contact info of Ferguson-based reporters Julie Bosman and Campbell Robertson in retaliation for their alleged publication of Ferguson officer Darren Wilson's address — a claim that turned out to be wrong. (Being wrong is kind of Johnson's thing; see here for a non-exhaustive list.)
The Times actually published a marriage certificate bearing the address of a law office, not Wilson's residence, a fact too late to matter. The two NYT reporters had to flee their homes in the face of consistent threats.
On Monday Times media reporter David Carr posted his phone interview with Johnson, in which he confronted the blogger about the incident. Carr wrote, with discernible sarcasm:
He intimated that he had experienced some blowback and that he now felt under threat. "People are trying to kill me and my family members," he said.

In view of that, I asked him about publishing the home addresses of two Times journalists after erroneously claiming they had reported the address of the Ferguson policeman who shot Mr. Brown. "I didn't say they published his address," he said. Yes he did. He said that reporters "published the address of Darren Wilson in The New York Times so here are their addresses." Moving on, he said that before releasing their personal information, he contacted some friends in law enforcement and told them, "We got to make sure these guys are protected in Chicago and elsewhere, but this is what I'm going to do." Gee, thanks for that.

The reporters and their families were forced to vacate their homes after facing threats of robbery and rape. I asked what he thought about that.

"It doesn't feel great, I'll be honest with you, but I also don't see it as fundamentally my fault," he said.
Shortly after it was published Johnson tweeted a link to Carr's article, and, for good measure, included the alleged name of the victim in the RS story.
UPDATE:
I would really want David Carr's mugshot. Get it for me and I'll send you $50. He grew up in Minneapolis & has lived in DC & NJ.

— Charles C. Johnson (@ChuckCJohnson) December 15, 2014
Investigative journo @ChuckCJohnson offers $50 for digging up mugshot that was, um, on cover of an NYT bestseller. https://t.co/kITWx1B8w2

— david carr (@carr2n) December 15, 2014
[h/t New York Times]
[Image via Earl Wilson/The New York Times]
——
>> Follow Evan McMurry (@evanmcmurry) on Twitter
Have a tip we should know? tips@mediaite.com