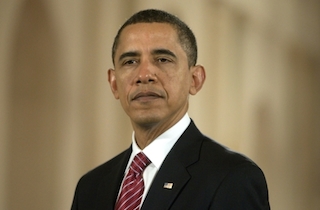 President Barack Obama explained to BuzzFeed editor-in-chief Ben Smith in an interview published Wednesday that his former advisor David Axelrod's characterization of him as misleading the public on his position on gay marriage "isn't quite accurate."
"I think David is mixing up my personal feelings with my position on the issue," Obama said. "I always felt that same-sex couples should be able to enjoy the same rights, legally, as anybody else, and so it was frustrating to me not to, I think, be able to square that with what were a whole bunch of religious sensitivities out there. So my thinking at the time was that civil unions — which I always supported — was a sufficient way of squaring the circle."
RELATED: Here's How Obama (and Others) Explained His Gay Marriage 'Evolution'
"Where my evolution took place was not in my attitude toward same-sex couples," Obama continued, "it was in understanding the pain and the sense of stigma that was being placed on same-sex couples who are friends of mine, where they'd say, 'You know what, if you're not calling it marriage, it doesn't feel like the same thing. Even if you gave me the same rights, the fact that I'm being treated differently or the love that we feel is somehow segmented off, that hurts.' It was because of those conversations that I ended up shifting positions, that civil unions, in fact, were not sufficient rather than marriage."
Axelrod wrote in his new book that Obama more fully supported same-sex marriage than he let on during the 2008 campaign, but hid his feelings to avoid alienating certain constituencies.
"These are the kinds of things you learn as you… move forward in public life: that sometimes you can't split the difference," Obama said. "That sometimes you just have to be very clear that this is what's right."
Read the full interview at BuzzFeed.
[h/t Bloomberg]
[Image via Everett Collection / Shutterstock.com]
——
>> Follow Evan McMurry (@evanmcmurry) on Twitter
Have a tip we should know? tips@mediaite.com