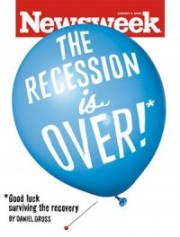 Newsweek's cover line touting  "The Recession is Over!" got some very special attention yesteday during President Obama's town hall event in Raleigh, North Carolina. Mr. Obama declared himself "startled" by the news, then proceeded to derisively point out "the truth." Rather than basking in the presidential limelight Newsweek chose to hit back at the President.
The writer of the cover story Daniel Gross defended himself thusly:
…it's hard to imagine President Obama being startled by anything. But, in our defense, we'd note that the cover's declaration of the recession's end is punctuated by an asterisk that warns "Good luck surviving the recovery." The article notes—as Obama's speech does—that the discussion surrounding the end of the recession is largely a technical discussion ("GDP growth alone can't feed a family, or a pay a mortgage") and that we face tough economic times and a recovery that will feel a lot like a recession. The article then goes on—as Obama's speech does—to discuss the impact of the stimulus package passed in February and the importance of health-care reform to the economy's longer-term health.

It's common to hear journalists complain of being overworked. And in this case, it's true. In addition to writing the first draft of history, we seem to be writing the first draft of the president's speeches.
We're personally relieved to see this story, not only because its a very slow news day, but because the work week is nearly done, and Newsweek had barely made our radar – till now.
Have a tip we should know? [email protected]