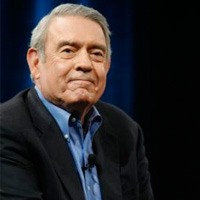 When Mediaite's own Rachel Sklar interviewed Dan Rather recently, his critique of the media was all-encompassing. Rather criticized print organizations for not having enough "boots on the ground" to cover breaking stories, cable television for airing shows where "three people get into a room and shout at one another," and online news aggregators for being processing plants" for "other people's news" that too often fall short of gathering the news themselves.
Now, the formidable 77-year-old anchor has a solution. Speaking at the Aspen Institute, an "international nonprofit dedicated to fostering enlightened leadership and open-minded dialogue through seminars, policy programs, conferences and leadership programs," Rather proposed a special White House commission to research a viable future for the media industry.
Naturally, conservative sites accused Rather of sucking up to the government in his comments. Newsbusters wrote:
As if the relationship between the Obama Administration and the news media weren't cozy enough already, former "CBS Evening News" anchor Dan Rather is calling on President Obama to "make recommendations" for the media on how to survive the economic downturn.
A fair point — though Rather wasn't asking for government money, but for the establishment of a "commission on public media and independent reporting." By comparison, there are government commissions and committees on arthritis and musculoskeletal diseases, noxious and exotic weeds, and even the fine arts.
The fear that an involved government will influence editorial decisions is a legitimate one, but bankrupt news agencies can't police much of anything. As long as there's no money changing hands and there are strong safeguards to keep the commission truly nonpartisan, Rather may be on to something.
via the Aspen Daily News
Have a tip we should know? [email protected]