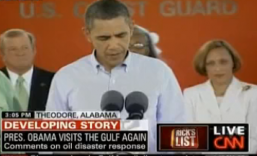 President Obama is in the Gulf again today — his fourth visit in less than three weeks. Suffice to say the message that he appeared laissez-faire about the spill has hit home. Obama gave a longish address following today's tour — too long for Fox News, apparently; they cut out early on to talk to Sen. Mark Warner…from Virginia. Meanwhile, Obama did not attempt to sugar coat the reality of the situation:
"I can't promise folks that the oil will be cleaned up overnight. It will not be. It's going to take time for things to return to normal…it's going to be painful for a lot of folks…But I promise you this: things are going to return to normal. This region that's known a lot of hardship will bounce back just like it's bounced back before."
The President also made sure to note that as of right now fish from the Gulf is safe to eat and that he himself had had it for lunch. Today's presser was a small preview of what we can likely expect from tomorrow night's Oval Office address, and part of a continuing effort on the part of the administration to cast BP as the bad guy — the only bad guy — in this scenario. Interestingly, earlier today NBC reported that Obama has chosen to visit locales today that had yet to get any oil, a decision which made him appear "tone deaf." During his remarks today, however, he appeared intent — particularly when addressing the Gulf's way of life — on conveying just the opposite. Watch videos of both below.
Have a tip we should know? tips@mediaite.com