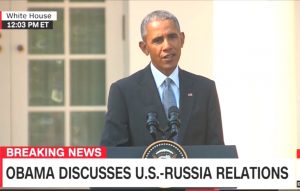 At a White House presser Tuesday afternoon, President Obama condemned the softening stance Republicans had taken toward Russian President Vladimir Putin, following in lockstep with their party's presidential nominee.
"Mr. Trump's continued flattery of Mr. Putin and the degree to which he appears to model many of his polices and approaches to politics on Mr. Putin is unprecedented in American politics and is out of step with, not just what Democrats think, but out of step with what, up until the last few months, almost every Republican thought. Including some of the ones who are now endorsing Mr. Trump," Obama told reporters.
"So you'll have to explain to me how it is that some of the same leaders of the Republican party who were constantly haranguing us for even talking to the Russians, and who consistently took the most hawkish approaches to Russia, including Mr. Trump's selection for Vice President [Mike Pence], now reconcile their endorsement of Mr. Trump with their previous views," he added.
Russia's behavior under Putin had undermined international norms and international rules, he said. "We can't go on talking about human rights or freedom of the press or democracy or freedom of religion or non-discrimination or basic laws of war or the sovereignty and territorial integrity of countries no matter how small, and then extol the virtues of someone who violates those principles," he said.
"Mr. Trump rarely surprises me these days. I'm much more surprised and troubled by Republican officials who have historically been adamantly anti-Russian … now supporting and in some cases echoing his positions. It's quite a reversal. You'll have to ask them how to explain it."
Have a tip we should know? [email protected]