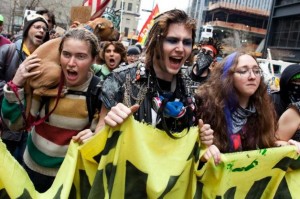 Yesterday marked not only St. Patrick's Day, but the six-month anniversary of Occupy Wall Street. And to mark the date, protestors in New York gathered in Zuccotti Park once again to show that the movement is alive and well. However, the protest was short-lived, as the police ended up sweeping the park and ending the demonstration, arresting some of the protestors over the course of the day.
RELATED: Rick Santelli On Difference Between Tea Party And Occupy: 'Don't Break Windows'
Initially the protestors were not bothered by the police as they chanted and organized, but one NYPD officer said they stepped in when they witnessed protestors "breaking the park rules." They were setting up tents and sleeping bags, and the park owner asked the police to step in after the protestors reacted with hostility to park security. However, one Occupier had a different take on what happened.
Sandra Nurse, a member of Occupy's direct action working group, said police treated demonstrators roughly and made arbitrary arrests. She disputed the police assertion that demonstrators had broken park rules by putting up tents or getting out sleeping bags.

"I didn't see any sleeping bags," she said. "There was a banner hung between two trees and a tarp thrown over it … It wasn't a tent. It was an erect thing, if that's what you want to call it."

She said they had reports of about 25 demonstrators arrested in the police sweep.
The protest even attracted Michael Moore, who was in the area, and he showed up to talk with the protestors. Of course, a protest on St. Patrick's Day wouldn't be complete without a reference or two to the holiday, and one protestor was wearing a shirt reading "St. Patrick: Drive the snakes out of Wall Street."
h/t USA Today
Have a tip we should know? tips@mediaite.com
Josh Feldman - Senior Editor