Mitt Romney Calls On Obama To Fire Head Of EPA & Two Cabinet Secretaries: 'Gas Hike Trio'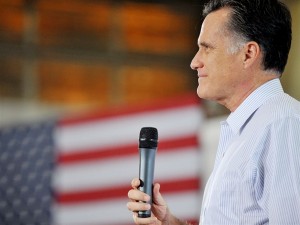 Gas prices have become a big issue in the Republican presidential race, with the GOP candidates criticizing President Obama over the rising price of gas. Newt Gingrich has been promoting his $2.50 gas proposal on the campaign trail, and now Mitt Romney is targeting not just President Obama, but two of his cabinet secretaries and the head of the Environmental Protection Agency, over the rising cost of gas prices, and said during a campaign stop last night that all three of them, the "gas hike trio," should be fired.
RELATED: Fox & Friends Blame High Gas Prices On Obama, Slam His 'Failed Green Energy Policies'
Gas prices have gone up in several weeks, and according to The Hill, the Obama administration is pushing back against charges from Republicans that "they've hatched a plot to increase prices." Energy Secretary Steven Chu came under some scrutiny last week for saying in 2008 that gas taxes should be increased, and his clarification last week that he no longer holds that position.
Chu is one of the three Obama administration officials in Romney's sights, and he has recently taken to calling on the president directly to fire Chu, Interior Secretary Ken Salazar, and EPA Administrator Lisa Jackson.
"These three, this trio of his energy team, have been working like crazy to drive up the price of gasoline. And that's just what they've done. Given the fact that [Obama has] changed his policy, given the fact he now wants lower gasoline prices, I think its time for him to fire his gas hike trio. It's time for those three to be let go."
h/t The Hill
Have a tip we should know? tips@mediaite.com
Josh Feldman - Senior Editor