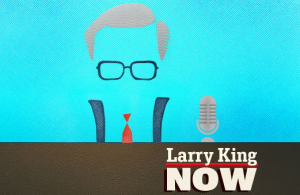 For 25 years, Larry King interviewed everyone from celebrities to world leaders on his CNN talk show. Now he's taking his schtick to the web with an online talk show on Hulu: Larry King Now. The half-hour show debuted on the online service yesterday afternoon, with King sitting down with Family Guy creator Seth MacFarlane in the first episode, and instead of taking phone calls, he'll be taking audience questions via Twitter.


RELATED: Larry King Sits Down With Sacha Baron Cohen In Character As 'The Dictator'
CNN officially severed ties with King in February, 14 months after the final episode of Larry King Live, after working together on a series of specials for the network. According to The L.A. Times, King came up with the concept for the online show last year with billionaire Carlos Slim. The show is produced by Slim's Ora TV.
Hulu has come out with original content before, but did not have an interview show in its collection, so they leapt at the chance to bring King into the mix.
"We are trying to make a show that is a blend of what Larry does so well, which is having great conversations with interesting people, but also updating the show," said Jon Housman, chief executive of Ora TV…

Hulu also is betting that its younger-skewing audience, whose median age hovers around 36, will warm to King.

"Larry is somewhat timeless," Forssell said. "The guy never stops, and so I think that [his age] will become a non-factor."
In the premiere episode yesterday, King interviewed Seth MacFarlane, and he has guests from Meghan McCain to Betty White lined up for future episodes.
Have a tip we should know? tips@mediaite.com
Josh Feldman - Senior Editor