Oliver Knows How to Improve Refugee Screening: 'Why Don't We Include a Pie-Eating Contest?'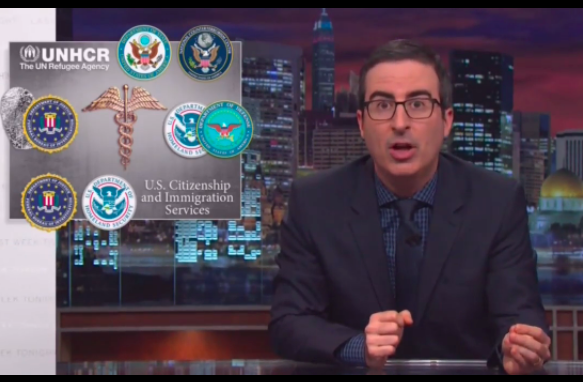 The host of Last Week Tonight on HBO John Oliver took on the Syrian refugee crisis on Sunday night's show, highlighting the absurdities that have come to light in the argument since the deadly attacks in Paris. After giving credit to the spirit of the French people who have returned to life-as-usual in defiance of terror threats, Oliver focused his segment on the refugee crisis out of Syria and its impact on the United States.
Regarding the ongoing debate on Syrian refugees entering this country and the state governors who opposed this process, Oliver had a message. "That's pretty extreme, but that's also pretty meaningless for two reasons," he said. "One: Governors don't have the legal authority to ban refugees and two: even if they could, Syrians can just walk between states like anyone else! The lines on maps aren't crocodile-filled moats."
After Jeb Bush's simple assertion last week that "I think you can prove [you're a Christian]," Oliver had a bit of fun at the expense of struggling GOP contender. Oliver continued, "A Christian has ears that protrude from the head, while non-Christians lack ears all together! Oh you know what, I'm thinking about seals and sea lions. I often get them confused."
The Last Week Tonight host then broke down in painstaking detail the lengths to which any potential refugees amid this humanitarian crisis must go in order to find safe haven in the United States. Oliver presented the myriad of agencies that refugees must pass through during the nearly-two year screening process: After the UN Refugee Agency, refugees go through the U.S. State Department, FBI, Department of Homeland Security, and the Syria Enhance Review — "and don't relax yet, because we've barely even started!,"  Oliver quipped — the Department of Defense, fingerprints, and biometric databases across the board. After all that, cultural orientation classes for any refugees looking to enter America.
Oliver identifies this as, "…the most rigorous vetting anyone has to face." He continues by highlighting some of the additional tests that we should consider to put on Syrian refugees, saying,  "At this point why don't we just include a pie-eating contest, a spelling bee, and an evening wear portion!"
Check out the above clip from HBO.
[image via screengrab]
—
>> Follow J.D. Durkin on Twitter (@MediaiteJD)
Have a tip we should know? tips@mediaite.com