On Second Thought, Jon Kyl Claims Obama's Border Comments "Taken A Bit Out Of Context"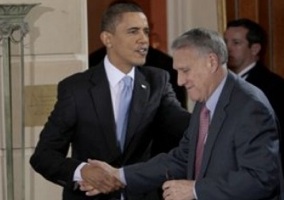 Earlier this week, Senator Jon Kyl claimed that President Obama had had told him that border security was politically problematic, quoting the President as saying, "If we secure the border, then you all won't have any reason to support 'comprehensive immigration reform." The White House rebuked the claim, ostensibly calling Arizona junior Senator a liar. Well, now Kyl is walking his original quote back, claiming that it was "taken a bit out of context."
Writing for the Washington Post, Rachel Weiner reports:
Kyl was quoted: "The president said the problem is if we secure the border, then you all won't have any reason to support comprehensive immigration reform. In other words, they're holding it hostage."

In an interview with National Review, Kyl explained:

Kyl tells us that the comments were "taken a bit out of context," and that the "they" he was referring to was the Left, "the president's base," and not the administration. "I did not try to start a fight. This meeting happened a month ago and we were talking in the context of his political problems. He was talking about how they think that if we secure the border, you guys [Republicans] won't have the incentive to work on comprehensive immigration reform."

At the time, a spokesman for Kyl forcefully defended the story.

"There were two people in that meeting, and [White House spokesperson] Dan Pfieffer was not one of them," Patmintra said. "Senator Kyl stands by his remarks, and the White House spokesman's pushback that you must have comprehensive immigration reform to secure the border only confirms Senator Kyl's account."
Read the full report here.
Have a tip we should know? tips@mediaite.com