Once Again, Fake Story About CNN's Jake Tapper Makes Rounds on Alt-Right Twitter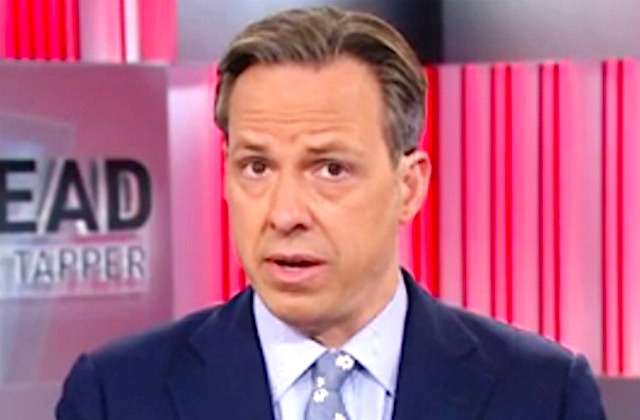 A fake screencap– supposedly of a tweet sent by CNN host Jake Tapper— made the rounds on Wednesday morning on alt-right and pro-WikiLeaks Twitter.
In the fake tweet, Tapper supposedly called for the execution of WikiLeaks founder Julian Assange. Needless to say, he didn't actually say anything of the sort (and the blurriness of parts of the image makes that obvious). But that didn't stop the image from going viral.
#vault7 . The @jaketapper from CNN just tweet this and delete real fast. #adaywithoutwomen pic.twitter.com/J0nr13FUkT

— Dante (@fireondemand1) March 8, 2017
So @jaketapper called for the CIA to "take down" Assange and then deletes it. Hate to break it to you Jake, but screen shots are forever! pic.twitter.com/fXmKq3qX34

— DeplorableMidwestGal (@gal_deplorable) March 8, 2017
Whoa! @jaketapper is this you sir? ?calling for the assassination of Julian Assange just like Hillary did way back. #InternationalWomensDay pic.twitter.com/Zypa3e51Zi

— ?TruthMatters? (@JeffMontes5) March 8, 2017
Demonstrating what today's media is really about, Jake Tapper calls for the assassination of the one source of true news. pic.twitter.com/0XYVmw7dbe

— Philip Schuyler (@FiveRights) March 8, 2017
JAKE TAPPER UNHINGED

Calls on CIA to ASSASSINATE Julian Assange pic.twitter.com/yAAMniQWss#MAGA #Outnumbered #Vault7 #WikiLeaks #CIAHacking

— Boca Vista (@bocavista2016) March 8, 2017
And so on. Eventually Tapper weighed in and confirmed that the screencap was fake.
Here we go again with another lie making the rounds on twitter. Never wrote this; never even thought it & we've been covering #vault7 https://t.co/URewyWWFP9

— Jake Tapper (@jaketapper) March 8, 2017
The false story comes after alt-right Twitter users also spread audio claiming that it was Tapper using a racial slur. In fact, it was audio of Dog the Bounty Hunter.
[Image via screengrab]
—
>>Follow Alex Griswold (@HashtagGriswold) on Twitter
Have a tip we should know? tips@mediaite.com