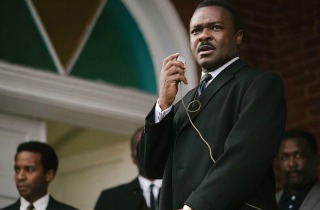 Here we go again.
Again, as in race being injected into every debate, even Oscar nominations now. As you may have heard, Selma — which absolutely should've been nominated for Best Directing (Ava DuVernay) and Best Cinematography (Bradford Young), while rightly earning a Best Picture nod — is the newest victim of Oscar voters' racism. Apparently the Academy judges a movie by the color of its cast instead of its character.
Exhibit A is CNN's Bill Weir sharing his poignant thoughts on the racial makeup of the voters:
Worth remembering that Oscar voters are 93% white, 76% male with average age of 63. (h/t @latimes)

— Bill Weir (@BillWeirCNN) January 15, 2015
Of course, Weir, whose new show should launch sometime between next week and 2016, failed to mention that 12 Years a Slave was nominated by the same bigoted voters nine times last year, taking home Best Picture, Best Supporting Actress, and Best Adapted Screenplay.
And it's not just Weir. The Hollywood Reporter isn't helping matters either, posting the headline: "Oscar Acting Nominees All White."
But host Ellen DeGeneres said it best during her opening monologue to last year's show: "Possibility number one: 12 Years a Slave wins Best Picture. Possibility number two: You're all racists."
Alas, race isn't the only alleged factor in this year's nominees — gender fits in as well. Say hello to Jose Antonio Vargas, journalist and immigration activist:
"no female writers or directors were included in the [#Oscars2015] race": http://t.co/NzmGrMaXQF #diversity @DefineAmerican

— Jose Antonio Vargas (@joseiswriting) January 15, 2015
But know this: Oscar nominations are like the NCAA Tournament. Even with 68 teams in now, a few worthy squads always get snubbed. Even this year's college football playoff screwed the pooch with TCU (regardless of Ohio State's epic January).
It happens every year with the Academy as well. Steven Spielberg wasn't nominated for Best Director for the original Jaws back in '75. In 2008, The Dark Knight (the second and best in the Christian Bale/Christopher Nolan Batman series with Heath Ledger) wasn't nominated for Best Picture. Nor was 2001: A Space Odyssey (Stanley Kubrick) in '68. Hitchcock — clearly not liked by the Academy — missed out on a Best Director nomination with the epic North by Northwest ('59). Here's a list of female directors who've been snubbed in similar fashion.
Need more? Here you go: Spike Lee's Do the Right Thing didn't earn a Best Picture nod (racism!). Sidney Poitier was somehow overlooked for Best Actor in 1967's In the Heat of the Night (watch it tonight and you'll see what I mean). Perhaps the biggest snub: The Shining not only being overlooked for Best Picture in 1980, but also winning two Razzie's (the satirical award for Worst Picture) that same year. And from a "What the hell were they thinking?" perspective, 1958's Vertigo not only wasn't nominated for Best Picture, but Best Director (Hitchcock again) and Best Actor (James Stewart) as well.
So please, can we save the racist rhetoric for a more worthy discussion? Selma — I would submit a better movie overall than 12 Years a Slave — was still nominated for Best Picture. It may very well win (Vegas odds coming shortly). Sometimes (often) the Academy screws up with the nominations, and I've still never forgiven them for selecting Dances with Wolves over Goodfellas for Best Picture or Forrest Gump over Shawshank.
But for credible newsmen and publications to call out the Academy's skin color as the defining factor in what and who gets nominated is the kind of dialogue that cheapens the argument. As it so often does during your average cable news "debate" on such matters in 2015.
— —
>> Follow Joe Concha on Twitter @JoeConchaTV
Have a tip we should know? tips@mediaite.com