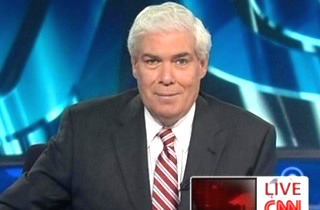 It's now two down, eight to go on my on-air-talent-tweets-something-that-will-prompt-an-apology prediction…
For those out of the loop, my 15 predictions for 2015 published at the end of December included an aggressive forecast on the over/under in terms of the number of times a cable news anchor/host/personality will write or do something on social media that reflects poorly on the news organization he or she represents. The plea in my last column–which focused on an ill-advised Tweet by FBN's Charles Payne–was to all cable news execs: Get your on-air people under control on Twitter if you want to avoid major headaches moving forward…even if that means stripping their accounts altogether.
And now, our second qualifier has emerged from the gate, this time over at CNN. It all started after this curious tweet by veteran CNN International anchor Jim Clancy:
The cartoons NEVER mocked the Prophet. They mocked how the COWARDS tried to distort his word. Pay attention.

— Jim Clancy (@clancycnn) January 7, 2015
Clancy was quickly challenged on his assertion, which mirrors the narrative of those arguing that Muslim terrorists are the extreme elements of an otherwise-peaceful Islamic religion. So when one of Clancy's followers submitted that Charlie Hebdo had mocked the prophet Muhammed in the minds of most Muslims, the Emmy winner shot back that the man challenging him — who owns a Jewish name — is serving as an Israeli propaganda agent (commonly known as "Hasbara", which refers to PR efforts by those pro-Israel to disseminate positive information about the country):
@OrenKessler Hasbara?

— Jim Clancy (@clancycnn) January 7, 2015
When others jumped in to ask what exactly compelled Clancy to bring Israel into the debate, he proceeded to accuse them of working for the Jewish State as well. It got to the point where one critic accused Clancy of drunk-tweeting (which is much more prevalent in media than you know):
@Yair_Rosenberg I'm 1000% convinced Jim Clancy is straight up drunk tweeting. Still no excuse; still deserves massive slap.

— pgplant (@pgplant1970) January 8, 2015
Clancy's tirade was described as "unhinged" and "extraordinarily ill-judged" for someone of his stature. Clancy himself would later say this about his weekend apparently coming early, which may explain a lot:
@HumanRights2K Get a grip, junior. It's my Friday night. You and the Hasbara team need to pick on some cripple on the edge of the herd.

— Jim Clancy (@clancycnn) January 8, 2015
Speaking of over/unders, the O/U on an apology from Clancy (via Twitter) is 5:00 p.m. EST today. Best bet is to go heavy on the under.
— —
>> Follow Joe Concha on Twitter @JoeConchaTV
Have a tip we should know? tips@mediaite.com