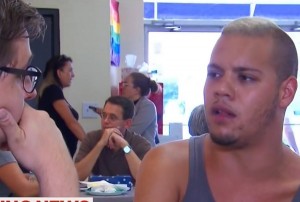 The motivation behind Sunday morning's mass shooting in Orlando, Florida, the worst in our nation's history, continues to take twists and turns. Although 29 year-old Omar Mateen phoned in a pledge of allegiance to ISIS during the attack, he had also claimed allegiance with the organization's bitter rival Hezbollah in the past. And while his attack targeted gay men, reports are emerging that Mateen used gay dating apps like Grindr as far back as 2007.
On Monday night's All In with Chris Hayes, an Orlando man named Cord Cedeno told host Chris Hayes that he recognized Mateen from several gay dating apps, and said that friends of his recognized Mateen as a frequent visitor to Pulse, the club where the attack took place:
One of my friends, he doesn't want to be spoken to on media, he said he knew this guy from pack in 2007 where he's been coming to Orlando into a lot of this area, and he used to talk to him on the Adam for Adam app. Once he saw the guy's picture on the news, he told his parents, he told his mom, like, 'I know this guy, I know this guy.' His mom's like, 'You couldn't have known him.' He's like, 'No, I know this guy.' And as of today I spoke with my friend and told him, I was like — yeah, it's a gay dating app and he instantly was like, 'Oh my gosh, I knew I wasn't crazy, I know this guy.'
The FBI has been contacted by a number of witnesses with similar stories, and are investigating:
As soon as West saw photos of Mateen released after the shooting, he said, he drove to his local police station, where officers summoned FBI officials, who showed him a photo of Mateen on a computer screen.

"I said, 'That's him,'" (Pulse nightclub regular Kevin) West said, and turned over his phone and Jack'd log-in information to the FBI, which still had the phone late Monday, he said.

Investigators are looking at reports that Mateen visited gay clubs and was using gay dating apps, a law enforcement official said. "Watch that space," the official said.
Media speculation surrounding these reports has centered around the idea that Mateen was "casing" for the attack, but if it turns out he really was using these apps and frequenting clubs since 2007, that would significantly change the view of his motivation.
Have a tip we should know? tips@mediaite.com