Paladino Walks Out On Interview After Questions About Gillibrand Comments (VIDEO)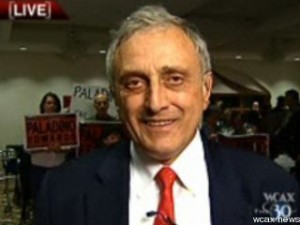 New York gubernatorial candidate Carl Paladino (R) walked out on a local television interview in Plattsburgh, New York on Friday evening after the anchor asked him whether his comments about Sen. Kirsten Gillbrand (D) were sexist. Paladino had called New York's junior Senator "[Schumer's] little girl" on Thursday, in reference to Sen. Chuck Schumer (D).
When asked if he regretted the comments or thought they were sexist, Paladino said, "No, I don't. I was referring to the fact that Miss Gillbrand seems to vote exactly as Mr. Schumer directs her to. She doesn't show any mind of her own in voting. And that's why I referred to her that way."



When pressed as to whether he thought it was a sexist statement or whether it could hurt his outreach to women, Paladino said, "Well, you can make it whatever you want, Kristen."
When the reporter tried to continue the interview with what seemed to be a question about how Paladino's many insensitive remarks were causing rifts with the Republican party, Paladino decided it was time for him to ask the questions. "Are we going to talk issues, or am I leaving you right now?" he asked.
She countered that she thought her questions were about issues, to which Paladino responded by wishing her a good night, taking out his earpiece and mumbling, "I think we're done talking to this lady." The Buffalo News reported that, off-camera, Paladino told his aides, ""She wants to talk trash, she can talk to somebody else."
This post was written by Megan Carpenter for Talking Points Memo where it first appeared, and is re-purposed here via a content sharing agreement between the two sites.
Watch the video below:
Have a tip we should know? tips@mediaite.com