Pamela Geller Attacks Megyn Kelly For Having a 'Mancut': She 'Wants To Be Diane Sawyer'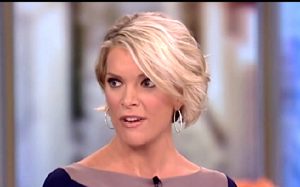 Staunch anti-Islamic advocate Pamela Geller went on a tear against Fox News host Megyn Kelly Monday on The Bernie and Sid Show, at one point attacking her for having a "mancut."
Bizarre as it may sound, the incident stems from a recent NPR interview in which Kelly defended Geller's right to free speech. Kelly criticized Donald Trump for suggesting in 2015 that Geller deserved to be attacked by an Islamic extremist for hosting a "Draw Muhammad" event. "What is she doing drawing Muhammad? And it looks like she's actually taunting people," he said at the time.
Kelly said that even if Geller was a "hateful person," Trump's statement was wrongheaded. "Now, she's a provocateur and she's not a fan of anyone who's Muslim from the sound of what she says, but this is America and she has the right to say those things. And she has the right to have a contest like that. And he was one of the ones out there arguing she invited her own attempted murder," she noted.
Geller (who now supports Trump) hit back at Kelly for the "hateful" remark. "It's an extraordinary statement by a 'journalist' who's going to pull down 20 million a year, a woman who knows nothing about my work, has never read my book, has never spoken to me, has never had me on her show…" she said.
After insisting she wasn't actually a hateful person, Geller followed up by… attacking Kelly's appearance: "I can say what I think. It is a mancut," she continued. "She did do it to be– she wants to be [ABC reporter] Diane Sawyer, she wants to be 60 Minutes, she wants to be in the pantheon of what's left of the gold standard of journalism."
Listen above, via 77 WABC.
[Image via screengrab]
—
>>Follow Alex Griswold (@HashtagGriswold) on Twitter
Have a tip we should know? tips@mediaite.com