Does Trump Believe Russia and Assange and 'Not the CIA and FBI?': CNN Anchor Grills Trump Supporter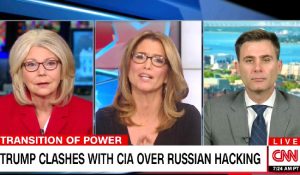 During a panel discussion on CNN this morning, anchor Carol Costello battled with CNN political commentator and Donald Trump supporter Andre Bauer over Trump's reluctance to accept the assessments from the intelligence community that Russia interfered in the election.
Following up Mitch McConnell's news conference where he backed a probe into Russian hacking, Costello asked Bauer why Trump wouldn't be "all in when it comes to holding Congressional hearings."
Bauer first stated that he thought it was unnecessary as a "taxpayer" that we have "16, 17 different agencies" in the intelligence community, saying "surely we can reduce the number of those." Costello told him that she wanted to focus on the issue at hand, which was why wouldn't Trump be for looking at Russian interference.
The former South Carolina Lieutenant Governor responded by saying that it sidetracks from what Trump wants to do. He followed that up by stating that Julian Assange has commented that he didn't get the hacked emails WikiLeaks released from Russia, leading to Costello to push back.
"So Donald Trump is going to believe Russia and Julian Assange and not the FBI and CIA?" Costello asked. "Is that what you're saying?"
Bauer claimed that several different agencies are not in agreement regarding Russia's involvement and the CNN anchor came back by saying "17 intelligence agencies in the United States have agreed that Russia was tampering with the U.S. elections. The CIA came out and said that."
When Bauer insisted that wasn't the case, Costello wouldn't let him off the hook. "Yes, they have," Costello exclaimed. "17 agencies have agreed."
Watch the exchange above, via CNN.
[image via screengrab]
–
Follow Justin Baragona on Twitter: @justinbaragona
Have a tip we should know? tips@mediaite.com