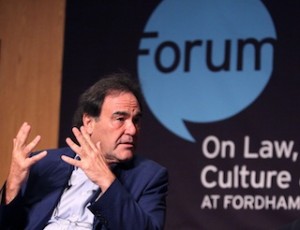 Who: Oliver Stone, Edward R. Pressman, interviewed by Thane Rosenbaum
What: Forum Film Festival's "Wall Street"
Where: Fordham Law School
When: October 16, 2011
Thumbs: Down
The audience was treated to a screening of the 1985 classic "Wall Street" before this panel convened. But based on the direction the conversation went repeatedly, we should have been treated to "Wall Street: Money Never Sleeps," the 2010 sequel. That's because moderator Thane Rosenbaum cited the sequel – a film many of us had never seen – much more often than he looked to the original for specifics to discuss. Movie spoilers aside, chitchat about a movie other than the one that was just shown leaves the audience in the dark.
What was particularly disturbing about this decision is how meaty the original film is, particularly in light of recent events and the growing Occupy Wall Street movement. To Rosenbaum's credit, he did ask the others about OWS, but Stone and Pressman didn't take the bait for as long as he (and we) may have hoped. Stone could have given more than his short responses, but Pressman was almost entirely silent throughout. It left Rosenbaum struggling to come up with new questions and to rephrase others to make them clearer in hopes of eliciting longer answers from his subjects. All it did was lead to some strange and awkward moments with the audience craving something else.
Stone did make some connections between then and now, describing "the greed era" he recognized in development in the early 1980s when bankers began to trade with selfish interests in mind. Pressman acknowledged that the original title for "Wall Street" was "Greed." Today, Stone says, he's inspired by what's happening in downtown New York to fight perceived greed, but he hopes that a similar uprising will come to Washington, D.C., but centered around money in politics.
Main character Gordon Gekko has become a transcendent figure, they all agreed. Young businesspeople idolize him, Pressman added. It's no surprise then to discover that it was easy for them to get financing for the 2010 sequel. Maybe someday we'll go see it. We heard good things about it.
What They Said
"The speculation that went on was irrational. It was 'Alice in Wonderland.'"
– Oliver Stone says that at times bankers can live in a fantasy world

"I hope all of these guys have a conflict in their heads because they deserve it."
– Oliver Stone does not hold the CEOs of banks in very high regard…

"The complexity that Gekko has stands apart because it is so complex."
– Edward R. Pressman thinks that there's more to the character than meets the eye

"You don't ever change what you know to be truth."
– Oliver Stone takes issue with directors who don't document fact correctly

What We Thought
Is it just too hard to ask a director and producer to recall the experience of making a movie 25 years ago? If that's the case, then the original "Wall Street" was a poor choice for this film festival. It's a pity, too, since there's a great deal to talk about surrounding this film. There aren't any two people more equipped to participate in that discussion than Pressman and Stone. But on Sunday it seemed like there could have been two people who could have been more prepared or interested.
It's a small thing, but Stone's microphone hit the fritz at times, which was distracting. The audience was never at a loss to hear what he had to say, but his volume levels came and went. At one point Rosenbaum shot a glare to the booth. We were happy to see it because at least he was recognizing that this was impacting people's impressions.
We rarely leave a panel early but after sitting for three hours we'd had enough. If the panel had been going better, we may have stayed. After an hour of chatter and a two-hour movie, though, we chose to follow some dozen others and make our way for the door.
PANEL RULES!
Some audience behavior seems to repeat itself panel after panel. We'll be updating a running list of "PANEL RULES!" that will help ensure that you are not the dweeb of the Panel Nerds.
Panel Nerds don't like…Missing Your Out
Once it became clear that Stone and Pressman weren't going to give long responses to his questions, Rosenbaum could have turned to the audience earlier as a source for new chances. Instead, Rosenbaum rephrased already used ones and brainstormed additional questions to pose to the panel. Using the audience to help bail himself out of a jam is a good way for a moderator to fix a sinking ship. We appreciate it when it's done, too, because it allows us to help rather than witness helpless hopes fore reform. Part of why we decided it was time to leave stemmed from lack of knowledge of when the Q&A would set in. Had it earlier, we likely would have stayed, just to see what people wanted to hear more about.
Have a tip we should know? tips@mediaite.com