Pastry Empire Entenmann's Apologizes Three Times For Insensitive Casey Anthony Tweet
The Casey Anthony trial's shocking verdict seems to have brought out the worst in everyone, including beloved American pastry company Entenmann's. In an attempt to elevate their brand, the person behind the @Entenmanns Twitter account decided to use the world's most popular trending topic, "#notguilty," in a tweet, allegedly without any idea that they were cracking a joke about a woman going free after the death of her toddler.
Sometime around three hours ago, while Twitter was at its height of Casey Anthony verdict buzz, the following mysterious tweet appeared on Entenmann's account (screencap via Ray Wert, it reads: "Who's #notguilty about eating all the tasty treats they want!?"):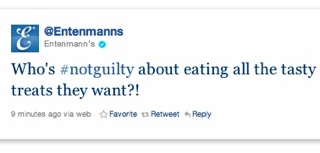 The tweet was almost immediately deleted, followed by three apologetic tweets– one explaining that they didn't know the hashtag was related to the Anthony trial, one "sincerely" apologizing, and one with a link to this longer apology from the company's social media guru Dave Kerpen,  which reads in part:
While this was clearly a mistake, its important to not only say sorry, but to leave the situation better than it was before. To that end, I'll be continuing to do pro-bono work for nonprofit organizations in need. As always, I remain available for questions, comments, and your thoughts here and on Twitter.
While this final apology raises the question of how working for non-profit organizations improves the Casey Anthony situation, it's fair to say this cake and cookie corporation meant no harm, and appears sincerely sorry. Three apologies feels like Ed Schultz-level atonement, and, for the most part, the reactions on Twitter seem lighthearted considering. After all, Twitter has seen far worse in the realm of accidental tweets.
Have a tip we should know? tips@mediaite.com