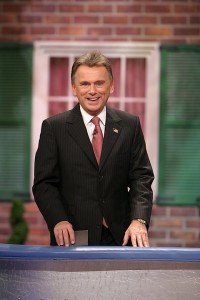 Wheel of Fortune host Pat Sajak posed an interesting question today: Should publicly employed citizens be allowed to vote? The game show emcee wondered in the National Review Online whether state and federal employees such as teachers and mail carriers should be allowed to "vote in state [and federal] elections on matters that would benefit them directly," as if that were a terrible reason for someone to vote.
Before you ask for the letters "W," "T," and "F," hear him out:
None of my family and friends is allowed to appear on Wheel of Fortune. Same goes for my kids' teachers or the guys who rotate my tires.
So there you have it: Sajak seems to think being eligible to win a prize on a game show is somehow the equivalent to voting for or against federal and state benefits. But then things get confusing when he continues:
I'm not suggesting that public employees should be denied the right to vote, but that there are certain cases in which their stake in the matter may be too great. Of course we all have a stake in one way or another in most elections, and many of us tend to vote in favor of our own interests. However, if, for example, a ballot initiative appears that might cap the benefits of a certain group of state workers, should those workers be able to vote on the matter? Plainly, their interests as direct recipients of the benefits are far greater than the interests of others whose taxes support such benefits.
Either Sajak is not fond democracy or he thinks that people will still vote if they have nothing at stake. If you're wondering why Sajak's publishing in the NRO at all, perhaps you didn't know that he's an active conservative who parties with Dick Cheney and Donald Rumsfeld and writes jokes about Rahm Emmanuel. I can't help but wonder what Cheney, Rumsfeld, and Emmanuel — all former government employees — think about Sajak's little theory.
Have a tip we should know? tips@mediaite.com