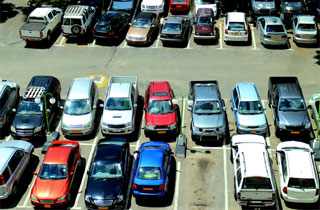 Car theft is a major problem in America, but most people would agree that it's hard to lose a car. As an investigation by the Daily Beast has learned, however, the Pentagon has somehow lost multiple cars belonging to American servicemen and women.
Here's how it happens: The Pentagon often reassigns their soldiers to different stations throughout the world, and helps their families defray the financial costs of moving — including the cost of shipping their cars. For decades, the Pentagon contracted this service out to American Auto Logistics (AAL), but replaced them this summer with a company called International Auto Logistics (IAL).
According to the Beast, this is when things went haywire, with "lost cars, delays, IT glitches, problems with live tracking, and poor customer service." Though they weren't able to pin down exactly how many cars were lost, military families are complaining about it loudly on Facebook and the internet. (A review site for IAL is damning, with every single review complaining about lost cars.)
For now, many soldiers and their family members have resorted to renting cars, or walking or biking long distances to get to and from work. Says one member of a military family:
"It just added a lot of extra stress to an already stressful situation," said Belen, another military spouse, who like others interviewed for this story asked for anonymity but was eager to talk about the problem. Her car shipment was delayed for three weeks, with no information about where it was or when it would show up. Her husband tried without success to reach a customer service representative for weeks.

"We got a rental [car] so that it wouldn't affect him getting to work, which of course we had to pay out of pocket," she said. It could be months before she is reimbursed, if at all.
The Department of Defense says that IAL has processed over 22,000 cars since their contract began in May, but said that it appeared to just be a case of delayed delivery. "Some members have experienced reduced service during the transition," they said in a statement. "Those servicing issues are being addressed individually."
[The Daily Beast]
[Image via Shutterstock]
—
>> Follow Tina Nguyen (@Tina_Nguyen) on Twitter
Have a tip we should know? tips@mediaite.com