People Are Losing Their Minds Over 'Planted Questions' Theory at CNN's Town Hall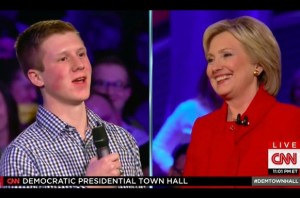 During Monday night's Town Hall on CNN, moderator Chris Cuomo sat down with each of the three remaining Democratic candidates for President one week from the Iowa caucus: Vermont Senator Bernie Sanders, former Maryland Governor Martin O'Malley, and former Secretary of State Hillary Clinton. Each candidate got thirty minutes to face questions from not only Cuomo about policy and past voting records, but also from a handful of audience members throughout the night.
One question in particular aimed at party frontrunner Hillary Clinton seemed to create a stir of suspicion through social media Monday night, and it came from a young student named Brett Rosengren. It was the final question of the night, and Rosengren — who Cuomo identified as a supervisor for a janitorial company — nervously stumbled through the beginning of his question, identifying Clinton first as "Secretary Sanders".
The crowd caught a healthy laugh from the moment, but then Rosengren said, "I can see why they gave you this question." Check out the moment here:
Eventually Rosengren simply asked, "Which of our previous Presidents have inspired you the most?" which added to the suspicion; many of the questions throughout the night were on hard-hitting policy and other controversial issues. Rosengren's question, at best, seemed like a softball tossed to the frontrunner just as the clock struck 11:01 p.m. ET. (Her answer, by the way, was Lincoln).
Many on Twitter immediately threw up the red flag, citing the suspicion with which Rosengren seemed to admit that "they" provided the question in advance:
oops. "I can see why they gave you this question" says a young man asking a question….was he handed this question? is CNN scripting this?

— Richard Grenell (@RichardGrenell) January 26, 2016
Kid just stood up and said "I can see why 'they' gave you this question"…seems legit #DemTownHall

— Jose Flores (@joeyflorez2) January 26, 2016
"I can see why they gave you this question." – audience member to @HillaryClinton — So every question is staged by @CNN? #DemTownHall

— Andrew Couts (@AndrewCouts) January 26, 2016
"I can see why they gave you this question" Uh… did that young man just admit CNN wrote all these questions? #DemTownHall

— Iowa Starting Line (@IAStartingLine) January 26, 2016
Wow @CNN. "I can see why they gave you this question…" @HillaryClinton had her answer loaded. ? #DemTownHall pic.twitter.com/4XlfbIVPLh

— Samantha Hill (@HeySamanthaHill) January 26, 2016
"I can see why they gave you this question" aka totally staged @CNN and your dude just proved it. #DemTownHall

— Jarrett Seltzer (@JarrettSeltzer) January 26, 2016
This is not the first time that the Clinton camp has been accused of planting questions; as current Face the Nation host John Dickerson wrote for Slate in November 2007, Clinton's last run for the party nomination brought an admitted leaked question to a 19-year-old on climate change. The question of course teed up a perfect response from Clinton in her battle against then-Senator Barack Obama. In September 2015, Clinton again had to combat accusations of planting when a "fun" question was posed on a Facebook Q&A that led Clinton to reveal she stopped drinking pumpkin spice lattes because of the caloric intake.
We will update this post as more information becomes available on the status of the question in question. Watch the above video from CNN.
UPDATE — 8:56 a.m. ET: Brett Rosengren took to Twitter to clarify the question he asked, though did not address the confusing language, simply noting that the question was his own:
Thanks everyone for the love! For those wondering, it was my own question that I previously submitted directed to any candidate #DemTownHall

— Brett Rosengren (@Brett_Rose1596) January 26, 2016
[image via screengrab]
[h/t US Uncut]
—
J.D. Durkin is the Senior Editor of Mediaite. You can follow him on Twitter @MediaiteJD.
Have a tip we should know? tips@mediaite.com