People Get Very Confused After Receiving the Same CNN Push Alert Over and Over and Over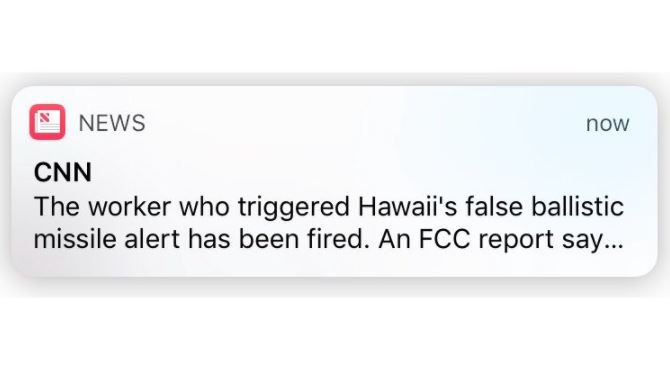 In a case of extremely deep online irony, CNN's latest story on Hawaii's false ballistic missile alert was sent out to users of the network's apps dozens of times by mistake.
Twitter reacted with scorn and ridicule for this too-perfect screw up.
While CNN's missile alert story featured updates on the ongoing FCC investigation into what caused the notification to be sent out to Hawaii residents, the details of the piece were hardly mentioned as many on Twitter just laughed at the perfect coincidence:
Is anyone else getting 538,290 push notifications from @CNN right now?

— Caleb James (@CalebJamesKOB) January 30, 2018
Congrats to the guy who got fired for sending Hawaii's false missile alert on his new job as CNN's push-alert director!

— Brett LoGiurato (@BrettLoGiurato) January 30, 2018
— Maggie Gordon (@MagEGordon) January 30, 2018
This CNN news alert that keeps coming up every 5 seconds and wont go away.. pic.twitter.com/O0BTguwqIF

— Dave Dick (@DavidPDick) January 30, 2018
CNN @CNN just sent a push alert… about the worker in Hawaii who sent the missile alert. AND THEY SENT IT 50 consecutive times. How do you screw up an alert about an alert?

— thenewsjunkie (@thenewsjunkie) January 30, 2018
Is that guy who got fired for the bogus missile alert in Hawaii now in charge of the push alerts for CNN?

— Mike Glenn (@mrglenn) January 30, 2018
CNN sending an alert about the Hawaii push notification story by sending 100 push notifications.

— Erick Fernandez (@ErickFernandez) January 30, 2018
When CNN sends you like a dozen push notifications the Hawaii missile alert guy has been fired, like I'm sorry is he working for y'all now?

— Jessica Mateer (@mateerjessica) January 30, 2018
Worker fired for false missile alert hired by CNN to send push notifications.

— Dade Murphy (@threefourteen) January 30, 2018
This @CNN push notification is extremely ironic

— kevin jonas (@kevinjonas) January 30, 2018
Per CNN Communications, it appears this was an Apple News issue:
We are aware that some Apple News users recently received multiples of the same alert. Our server log shows CNN sent only one. We are working with Apple to identify their issue, as users on CNN-owned platforms did not experience a problem. Apologies to those who did.

— CNN Communications (@CNNPR) January 30, 2018
[image via screengrab]
Follow the author on Twitter (@calebecarma).
Have a tip we should know? tips@mediaite.com