Peter Thiel Defends Trump: His 'Agenda Is About Making America a Normal Country'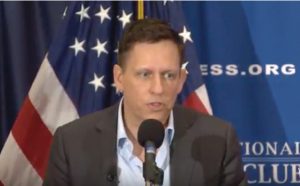 Peter Thiel defended Donald Trump as an "imperfect" candidate, who nonetheless gets the "big things" right, and who promised to disrupt the stagnation in Washington and usher in a new era of pragmatic governance.
"Nobody would suggest that Donald Trump is a humble man," he offered, but the real estate mogul injects a "much needed dose of humility."
Thiel made the comments at the National Press Club in Washington D.C. on Monday morning.
He continued: "Trump's agenda is about making America a normal country." He noted that the GOP nominee "questioned the core concept of American exceptionalism," pushed back against the tired "dogma of Reaganism," and was prepared to "reckon with reality."
"Both major candidates are imperfect people to say the least," Thiel said. "Nobody thinks his comments about women were acceptable. I agree: They were clearly offensive and inappropriate. But I don't think that voters pull the lever in order to endorse a candidate's flaws. It's not a lack of judgment that leads Americans to vote for Trump. We're voting for Trump because we judge the leadership of our country to have failed."
Thiel, who founded PayPal and sits on the board at Facebook, has been one of Trump's most prominent supporters in the tech industry. He delivered a speech at the Republican National Convention and recently announced that he was donating $1.25 million to Trump's campaign. Trump has reportedly considered him as a potential Supreme Court appointment (Thiel denies this). Thiel's public support for Trump has invited widespread criticism from the largely liberal-leaning Silicon Valley, and some in the industry have severed business ties with him.
The tech mogul, who is openly gay, noted that a prominent LGBT magazine, the Advocate, ran an op-ed arguing that he had betrayed the LGBT rights movement because he backed Trump. The criticism illustrated the "lie behind the buzzword of diversity," he said. "If you don't conform, you're not 'diverse.'"
"No matter how crazy this election is, it is less crazy than the condition of our country," he said.
—
Sam Reisman (@thericeman) is a staff editor at Mediaite.
Have a tip we should know? tips@mediaite.com